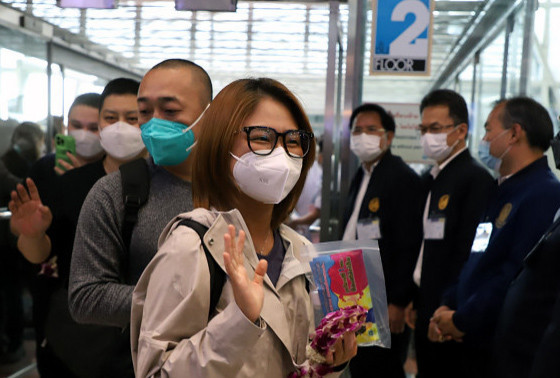 Vietnam Airlines has announced the resumption of five air routes between Vietnam and China for March and April. Nine out of 10 air routes to China that existed before the Covid-19 pandemic will be reactivated.
These include air routes between Hanoi and Beijing (restarting in mid-March), Da Nang and Guangzhou/Shanghai/Chengdu and Hanoi – Chengdu (April).
The air carrier will increase flight frequency between Hanoi/HCM City and Guangzhou/Shanghai, which began in September 2022, to 4 flights a week instead of 1-2 flights each route. 
Meanwhile, Vietjet Air is flying from HCM City to Shenzhen, Hangzhou, Shanghai, Sichuan and Wuhan (6 flights a week). 
From Jan 23, it will launch flights from Cam Ranh to Chengdu. Beginning this summer, Vietjet will develop 85 air routes, of which 60 routes have received slots. 
In 2019, China was the largest source market for Vietnam with 5.8 million travelers, an increase of 18 percent over 2018. Of this number, 2.6 million travelers came by air, which accounted for 45 percent of Chinese travelers to Vietnam.
The resumption of routine flights from Hanoi and HCM City to Chinese cities will be opportunities for travel firms to continue inbound and outbound tours.
HSBC, in its latest report about Vietnam's economy in 2023, said the number of Chinese travelers to return to Vietnam this year may reach 50-80 percent of the total number of tourists, or 3-4.5 million.
Preparations 
While airlines wait on the Chinese market and travel firms make hectic preparations to receive travelers, problems still exist which need prompt settlement.
Vietnamese firms have been surprised by the news that China decided to resume tours for groups of travelers to 20 countries commencing from February 6. But Vietnam was not on the list.
Ngo Lan Phuong, CEO of Kim Lien International Travel, said this was not anticipated by Vietnam's travel firms.
As a large firm specializing in receiving Chinese travelers (it served 80,000-90,000 travelers in 2019), the firm is now only receiving individual guests or small groups of 2-3.
When China announced its tourism reopening on January 8, Kim Lien hurriedly prepared to receive Chinese travelers, from doing post-pandemic market surveys to creating new products with hopes of receiving large groups of travelers. 
The latest information is not good news for Kim Lien and other firms. 
"Without partners, we won't be able to organize tours. Without Chinese groups of travelers, our business will be affected and we are likely to incur losses," Phuong said.
Vietnam's travel firms are hoping for good news from China because they can't shift to other markets overnight.
Meanwhile, some travel firms have blamed state agencies for the absence of Chinese travelers, saying that management agencies and associations were not sufficiently proactive. 
A conference on Chinese travelers was held in Mong Cai and Quang Ninh on Jan 9, but no meetings or conferences have since been held to discuss how to receive travelers and prepare products.
The manager of a tourism company in the south told VietNamNet that though China has reopened its borders, there have been few charter flights bringing Chinese travelers to Khanh Hoa. 
He is still waiting for a reasonable time to visit China to learn about demand, carry out trade promotions, and seek suitable destinations.
While Vietnam's travel firms wait, Thailand and other regional countries have begun receiving Chinese travelers. The Bangkok Post reported that on February 6, Thailand received 13 flights which brought hundreds of Chinese travelers after three years of interruption because of Covid-19.
Thailand plans to attract 5 million Chinese travelers in 2023 out of its target of 25 million foreign travelers. Meanwhile, Vietnam plans to receive 8 million foreign travelers this year.
Pham Minh Tu, CEO of a travel firm specializing in outbound tours to China, said his firm is cooperating with air carriers to bring Vietnamese travelers to Phoenix Ancient Town and Zhangjajue on March 28 on charter flights.
With tour fees remaining the same as in pre-pandemic period, he said the firm receives questions about destinations, visa procedures and air tickets every day from travelers.
From January 1 to February 2, Thailand received 100,000 Chinese travelers, while only 15,875 Chinese came to Vietnam in January.
Ngoc Ha
Related Posts