What a blast! Five of us, 15 days, 7 countries and 2,414 miles. It was definitely an adventure!!!
Like many other people, our travelling biking adventures had been curtailed to our own country for the past two years (of which we had some great biking adventures) and so this trip, although planned for 2020, had been very much anticipated.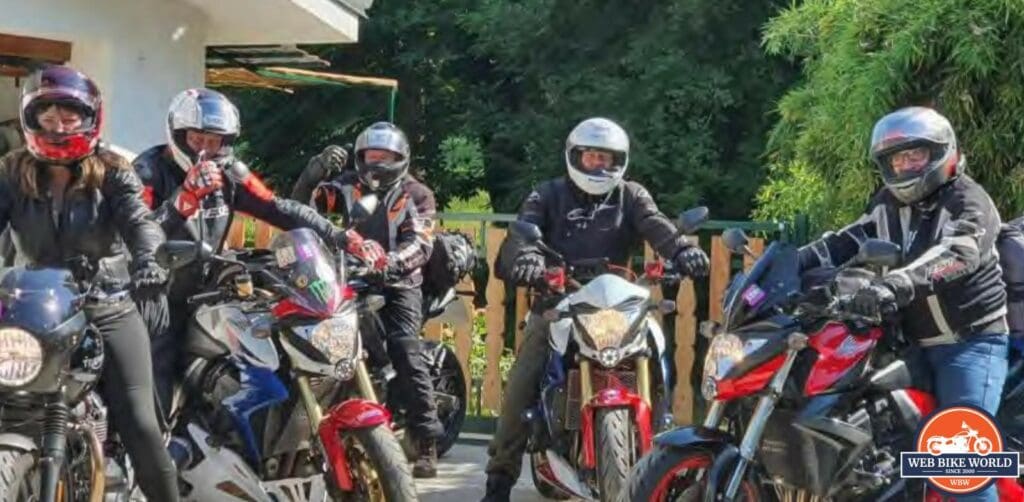 Planning The Trip
The trip was divided into six legs.
Leg 1:

Leaving the UK, onto the channel tunnel crossing heading to Nancy in France for our first overnight stop – 472 miles

Leg 2:

From Nancy, heading down through France and Switzerland and just into Italy, Olona, for our second overnight stop – 328 miles

Leg 3:

Making our way across Northern Italy from Olona to Vanzo which is a little town just North of Venice, where we would be staying for five nights – 188 miles

Leg 4:

Vanzo through Austria into Germany for two nights at Lake Constance – 377 miles

Leg 5:

Up through Germany and Luxembourg into Belgium where we would be staying in Tournai for five nights – 432 miles

Leg 6:

Leaving Tournai, back to the tunnel and home – 232 miles
What to Pack in my Tail Pack?
Space is obviously limited when touring on a bike so deciding what clothes to take with you is very important. We normally stay in Air B&B's or apartments when we go away and I try to ensure that they have clothes washing facilities. I pack about three day's worth of clothes so, underwear, t-shirts, a hoodie for a chilly evening, a pair of jeans and shorts (I am always forever hopeful that I will get to wear my shorts on my holibobs!) I take one pair of shoes as well as my bike boots which I will be wearing.
Much to the laughter of my mates, I always take a hairdryer with me – I never travel without one (although this has come in very handy previously for drying out very wet bike boots – they weren't laughing then!) I take a spare set of bike gloves too in case the other ones are wet or I lose one!
Toiletries and a set of waterproof trousers and jacket and that's about it. The waterproofs should be kept at the top of your luggage bag for easy access in the event that you need them quickly!
Charging leads for the phone and plug adapters.
I am of the opinion that if I really need something that I have forgotten to pack, I can get it (or its equivalent) when we're away. So that's basically it clothes-wise. I can travel light when I need to. The more you pack, the more you have to carry! I don't keep anything valuable in my tail bag. Valuable items will stay with me at all times.
A couple of us will have a puncture repair kit and a first aid kit. These have both been used before on previous trips.
What to Pack in my Tank Bag?
When touring abroad, it is essential that you carry certain documents with you. For me, these will go in a tank bag which can be easily removed from the bike if we stop at a cafe for example en route, I can just take it off the bike and keep it with me.
So what will go in my tank bag will depend on where I am going and what that country requires me to have.
For this trip into Europe I had in my tank bag:
Passport;

Driving Licence;

Bike documents: Log book, insurance, MOT;

Accommodation details;

EuroTunnel booking details;

Hi-Vis (wearing this is a legal requirement in France, I believe, it you are broken down at the side of the road);

Credit card to pay the tolls;

Cash (for this trip Euros);

Bottle of water and a couple of energy bars;

Spare bike key;

Sunglasses – ever hopeful that I will need these!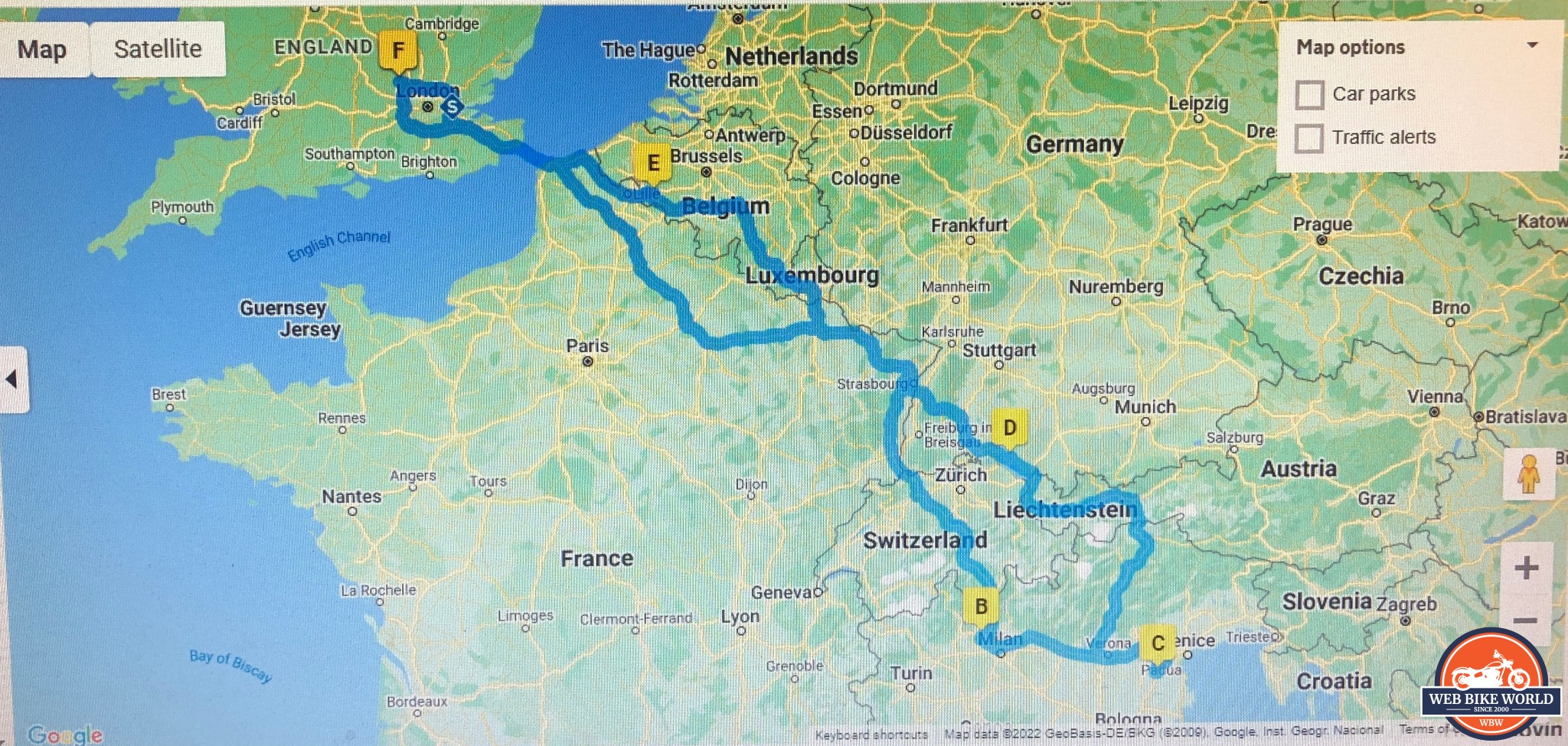 The 15-day tour across Europe that we've planned. A total of 2414 miles!
Day 1: Leg 1 – The Adventure Begins
Our crossing was booked for 07:50AM on Saturday and we had to check-in an hour before departure. It is approx. an hour and a half ride to the tunnel but we wanted to stop and fuel the bikes before getting on the tunnel so we could get a good hour or so riding in France before we had to fuel again.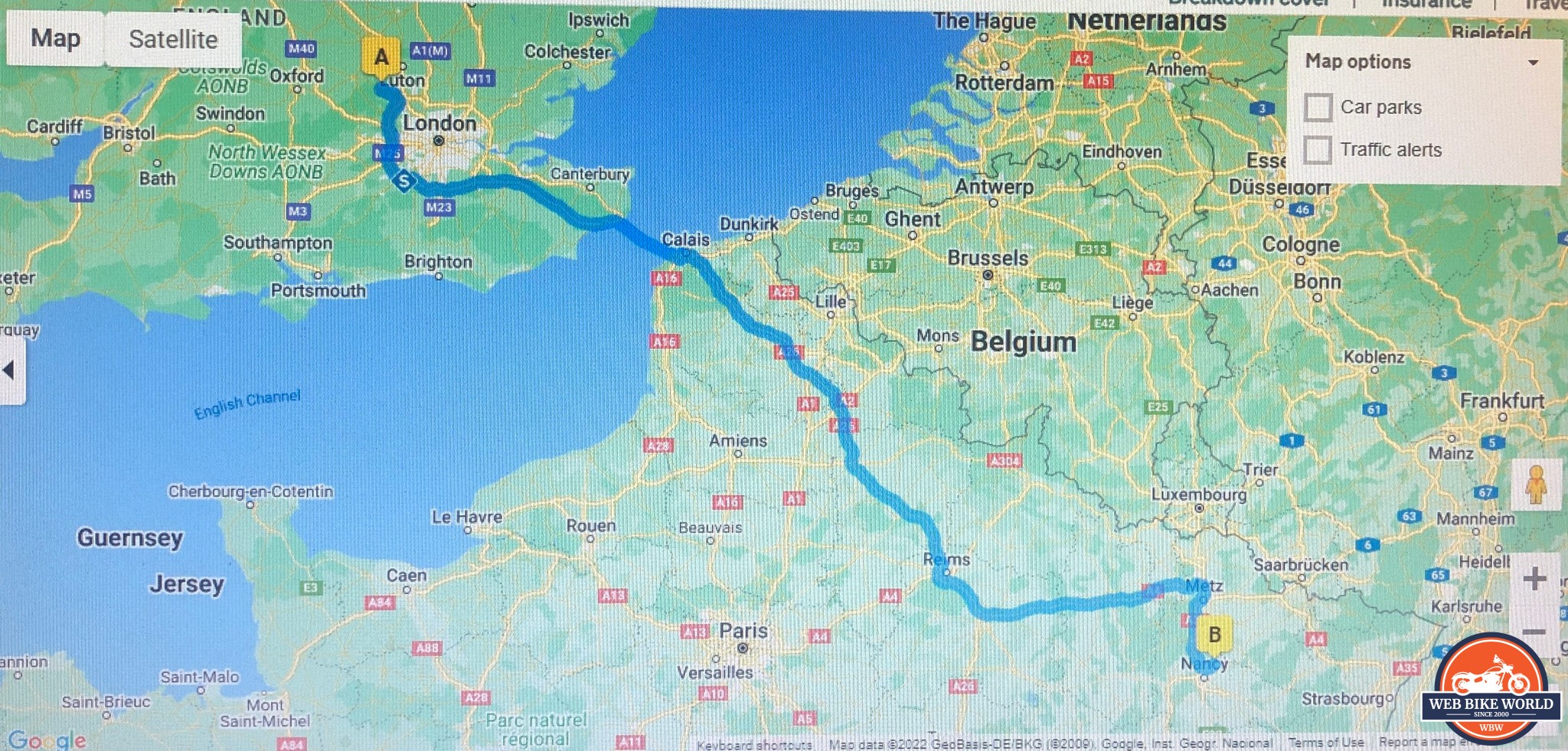 The first leg of the trip from the UK all the way to France; a distance of 472 miles.
This meant meeting the guys at 04:30AM (yes, really!) so getting up at 03:30AM which, to me, is literally the middle of the night. You know what it's like the night before you go away, you check, re-check and then triple-check that everything is packed and then you check fifteen times that you have your passport, all relevant documents, money and phone before finally flopping into bed only to be so excited about going away that you don't really sleep. 
Before finally heading out the door in the morning, I check everything again! Is that just me, or is everyone like that?
As it was early, traffic was good and we had an easy run down to our fuel stop where we grabbed a quick coffee before heading to the tunnel. The freight traffic to the tunnel was backed up well onto the motorway but for cars and bikes it was straight through. We checked in, went through passport control and then parked in our designated lane waiting to board.
I love waiting to board the train, I know it sounds odd to say that but the anticipation of what is to come, the journey ahead of you and the adventures you're going to have along the way, are all building up whilst standing here waiting. Everyone is happy, there's a lot of banter flying about and yes, you guessed it, I checked I had all my documents AGAIN!
There were quite a few bikers on the train with us so it was great to have a chat with a few of them to see where they were headed and swap notes and tips on riding abroad, what we should look out for and best places to visit (or not).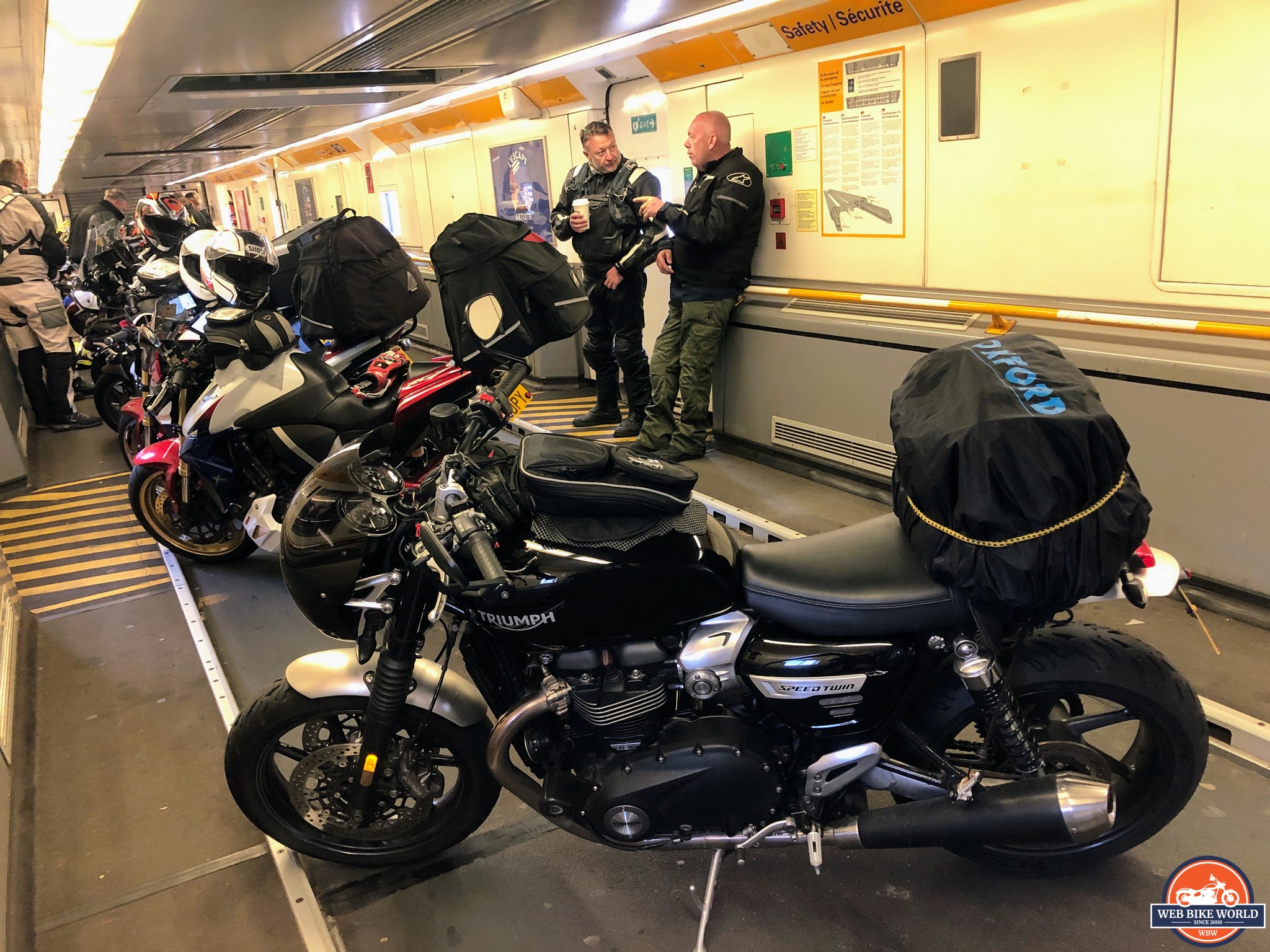 Here's a pic of my bike on the train going through the tunnel. 
After disembarking in France, we set off to our first of very many fuel stops. Every time I go across to Europe and come out of the tunnel, I worry that I will ride on the wrong side of the road but it's surprising how quickly you adjust. It still feels weird though riding the wrong way round a roundabout but as everybody else is doing it too, you soon get used to it.
When we left the UK I had a couple of layers underneath my jacket but at the first stop in France it was noticeably warmer and the layers came off.
As we had a fair few miles to do to reach our overnight stop in Nancy, we decided to get on the toll roads to pound away some miles on relatively easy roads to ride on. The longer we were cruising, the warmer it was getting.
I have only had my Triumph Speed Twin for a few months so I was not sure what it would be like touring, but I was already loving it. Seeing some beautiful scenery and riding with my mates was a bonus too.
We finally made it to Nancy and the town in which we were staying in for the night but we couldn't find the property. After riding around for a bit, we stopped and asked a very nice chap if he knew where the property was. Luckily for us he did and he kindly pointed us in the right direction.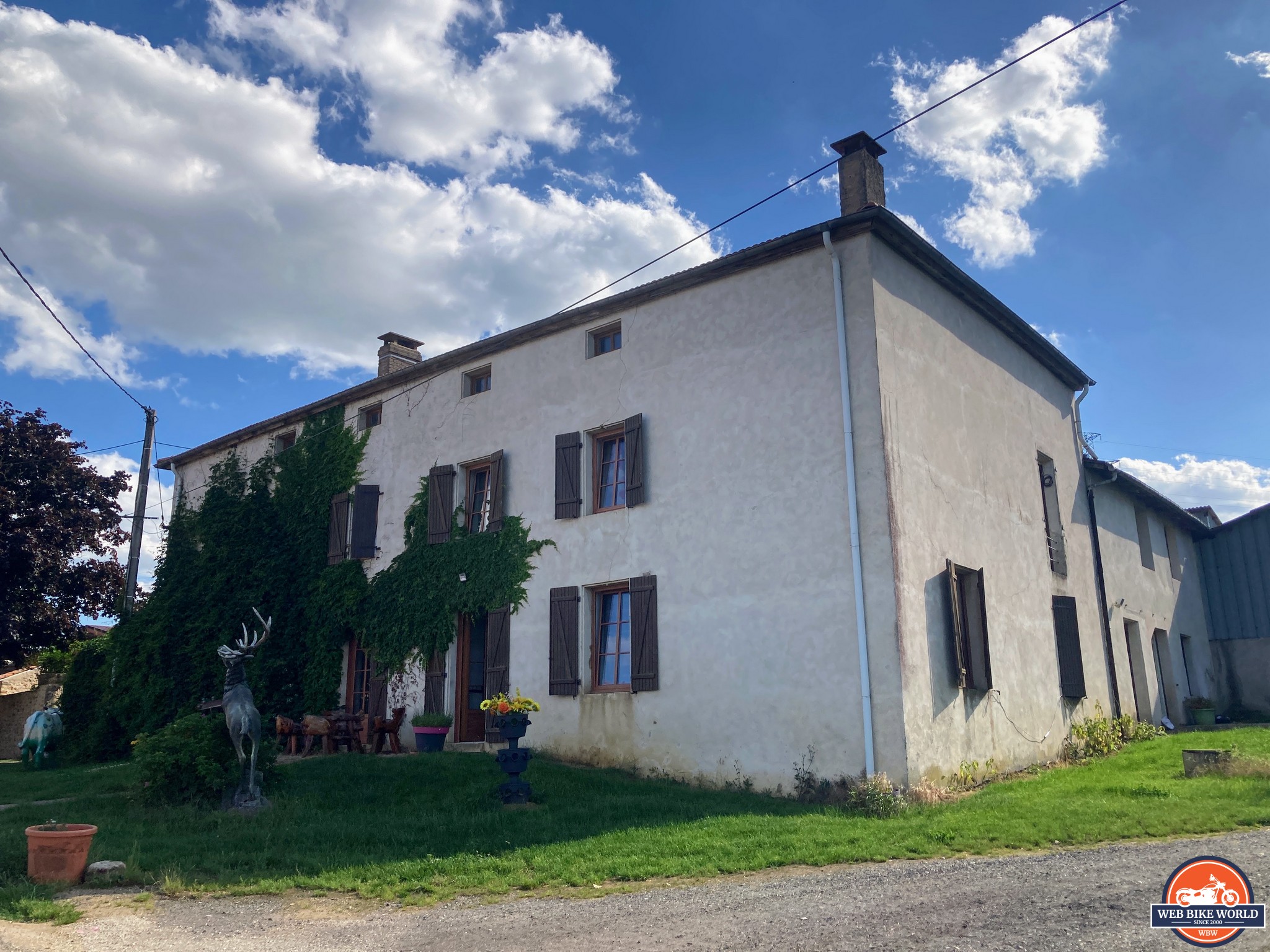 Our overnight accommodation in Nancy.
It was definitely worth the ride, the property was beautiful. It was in a rural location and was very quiet, just perfect after a day's riding.
After showering and a chill, we headed out on the bikes to find dinner before chilling outside the property enjoying the beautiful evening. I really could get used to this.
Day 2: Leg 2 – Cruising through Switzerland
After breakfast we set off about 9 o'clock to work our way through France, down through Switzerland and just into Italy to a town called Olona which is just north of Milan. As the day went on it was getting hotter and we were stopping regularly not just for fuel, but for food and plenty of drinks too. We had to buy a Vignette too, which is a Swiss motorway pass.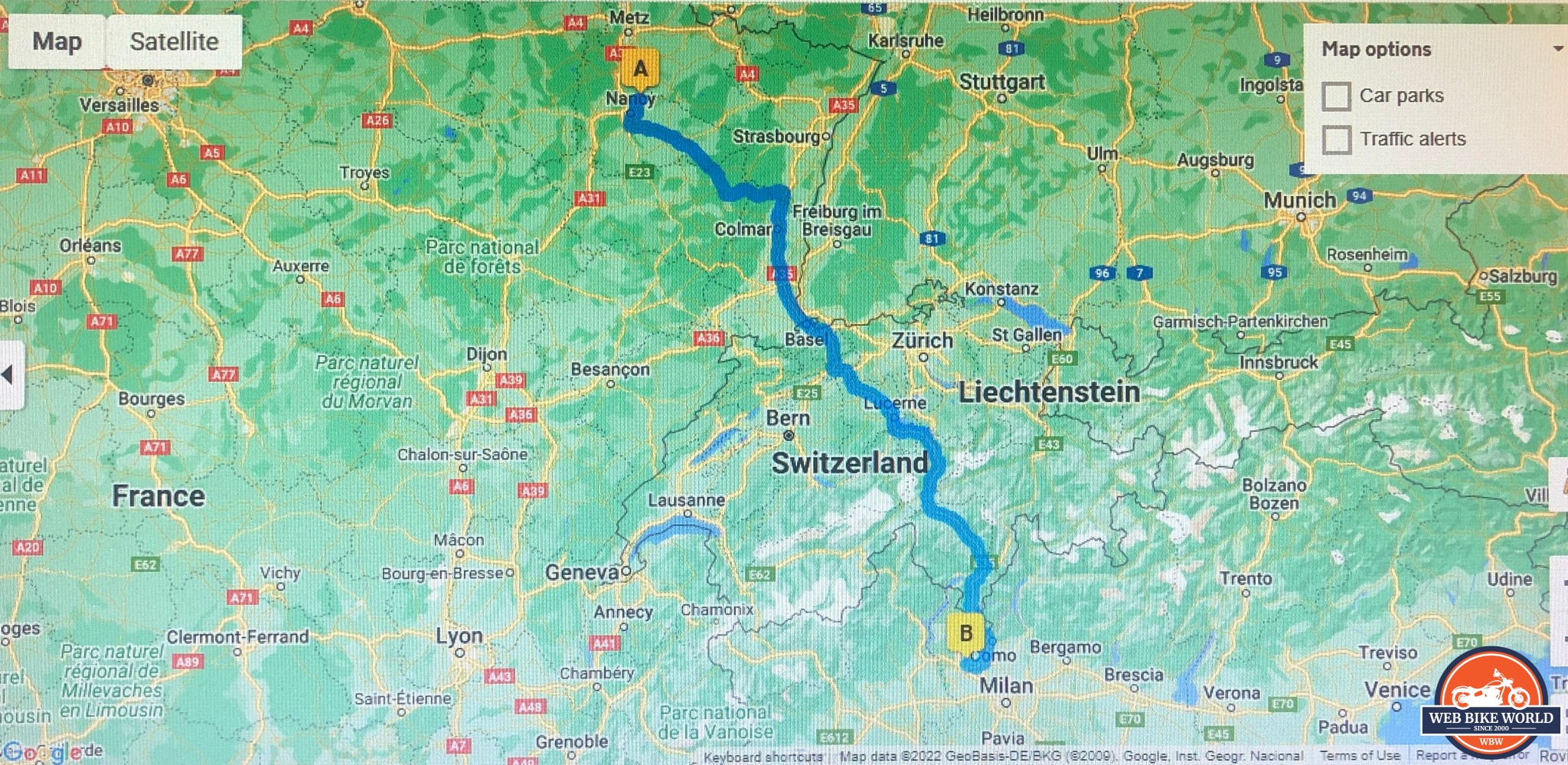 The second leg of our trip through France and Switzerland, into Italy; a distance of 328 miles.
The scenery in Switzerland was absolutely stunning. Everything looked really clean and tidy and the standard of driving was kinda like perfect, drivers seemed polite and gave you plenty of room. I decided that Switzerland was definitely a place we were going to have to come back and explore more.
Somehow though the riding got harder in Switzerland, there are an awful lot of tunnels through the mountains and when I say tunnels, some were 3 km long, 5 km long and then we went through the Gotthard tunnel which was a whopping 16.9 km long.
It was so hot riding in there, not only were we getting hot, but the bikes were too. There was no air. It was such a relief to come out of the tunnel and at the first fuel stop we could find we pulled in to let the bikes cool down as well as ourselves! Well-ventilated riding gear is a blessing if you're ever thinking about cross-country riding.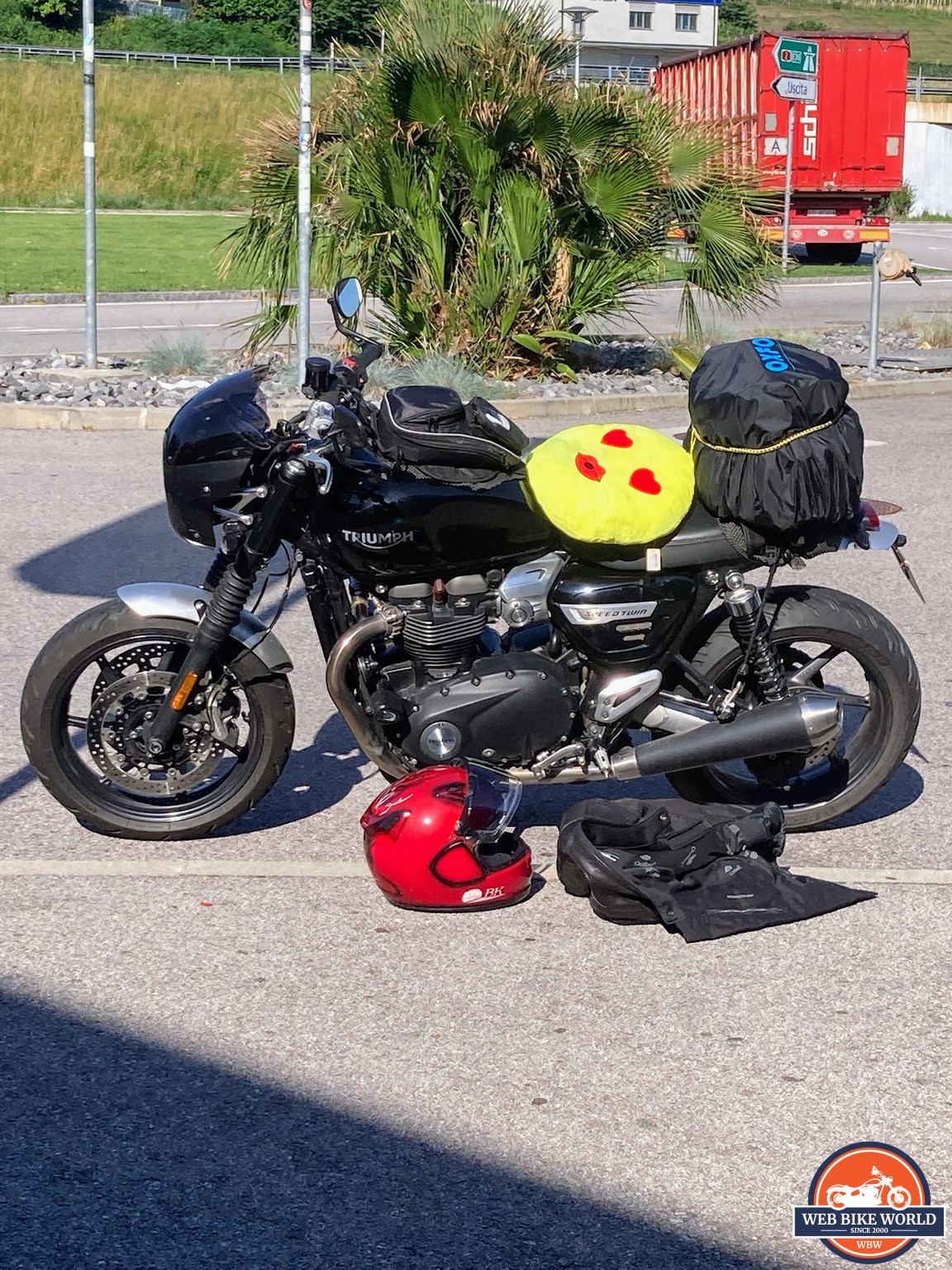 Just arrived at our overnight stop in Olona, my bike with my heavenly cushion!
It was at this stop that I bought a cushion to sit on. We had been riding for about five hours by this time and my bottom was becoming increasingly numb. The guys were experiencing a similar situation to me but they were being tough men and putting on a front about the numbness.
I, however, did not care a jot about keeping up appearances and found a bright yellow cushion in the services (in my defence there was extremely limited choice) and popped this on my bike seat. It was heavenly on my bottom. I honestly didn't care that it was soooo not in keeping with my bike. My bottom was comfortable and that was all that mattered.
We crossed the border into Italy and OMG the driving changed completely!!! Not only do they drive right on your bottom but when they pull in in front of you, they want to take your front mudguard with them too. It soon became apparent that speed limits were purely optional. I personally found it a little stressful as that is not how I ride/drive at all.
Finally we made it to Olona. Each of us had a sat nav and unbelievably all were giving different directions. We could not find our accommodation. After an hour and half of riding around, becoming tired and irritable, we found a lovely Italian couple who phoned the owners of where we staying, gave them our location and they came and found us and we followed them to the house.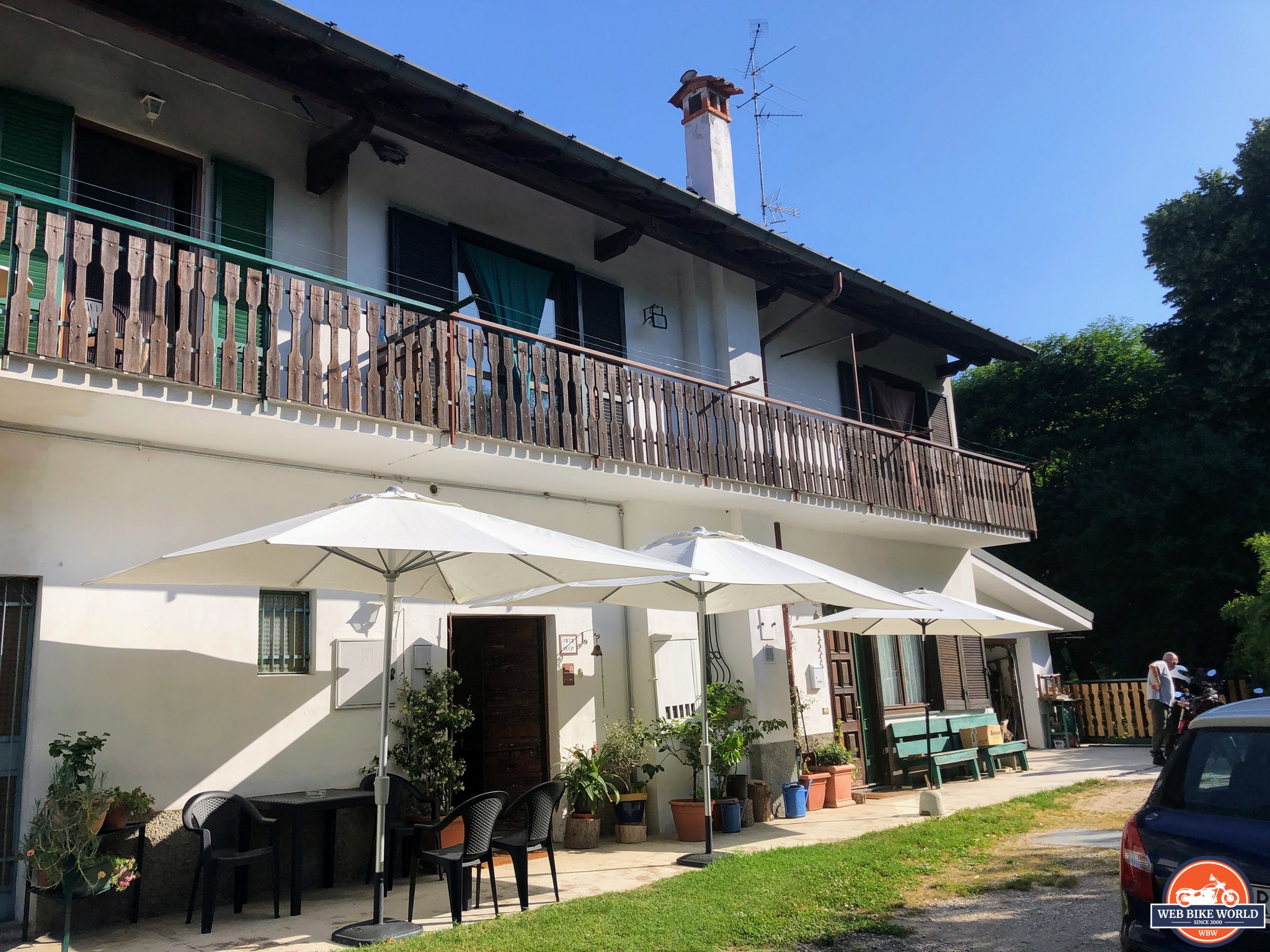 Our overnight accommodation in Olona.
We had decided a fuel stop ago, that the thought of going back out on the bikes that evening to find dinner did not appeal, so we bought bread, ham, cheese etc. and, after showers, sat outside in the garden with a beer or two and chilled. I've got to say it was a perfect end to a long day. The owners were lovely, supplied us with beer and music and were great to chat with.
It is evenings like this that make going away with your mates touring so great. There was lots of laughter and swapping stories of our ride. I just love it.
Day 3: Leg 3 – Our shortest leg across Northern Italy
After a plentiful breakfast, we said goodbye to our lovely hosts and set off on what was the shortest leg of our ride (188 miles) but what turned out to be the hardest ride of them all.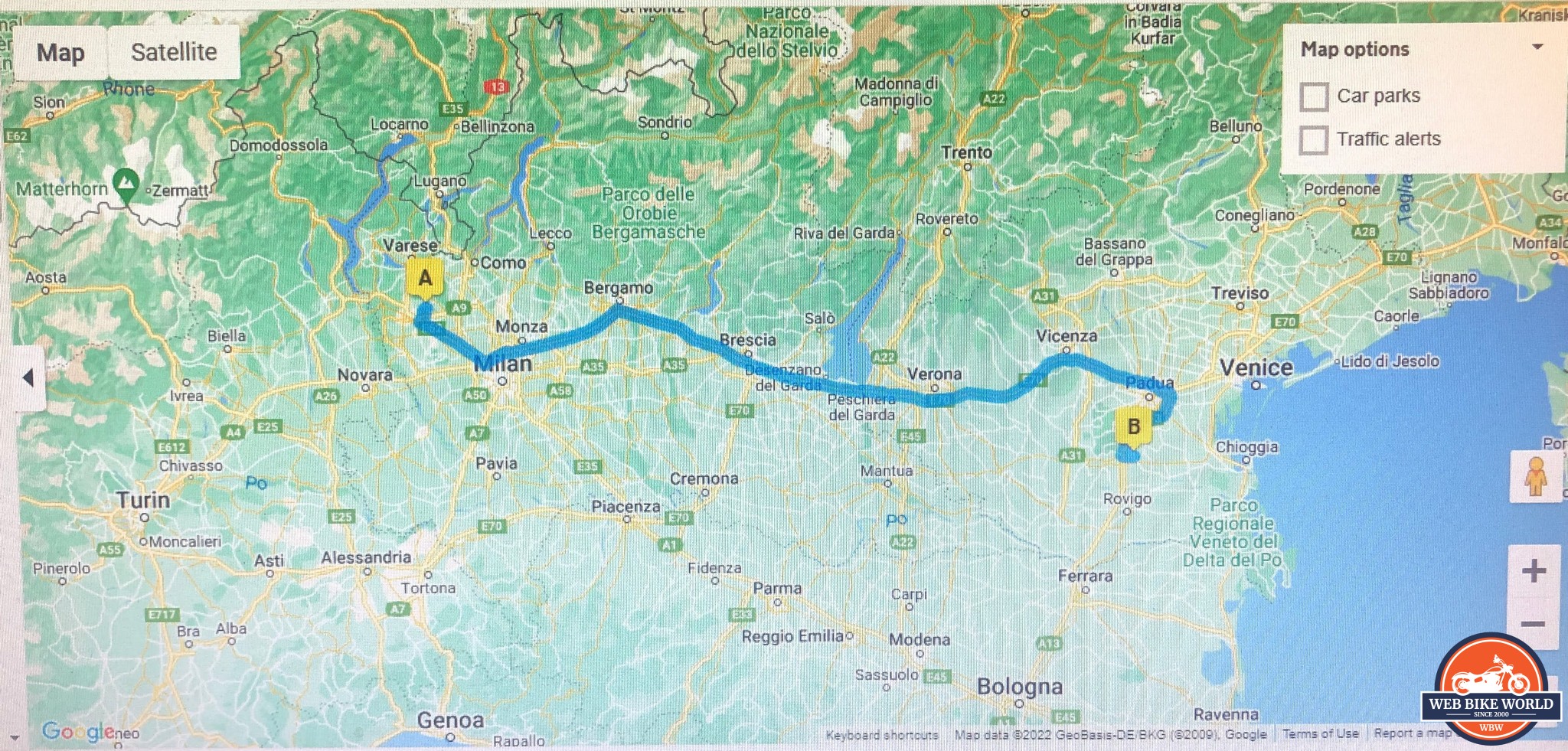 The third leg of our trip across Northern Italy; a distance of 188 miles.
The temperature was in the early 30's by the time we set off about 10 o'clock and it gradually got hotter as the day went on. The traffic on the motorway was very heavy and it did not make for an easy ride.
The address we were given for the property we were staying at was Pernumia but having ridden round for a while unsuccessfully locating the property, we found a café and went in for a chill, refreshments and to look at the map. It turned out that was a good decision.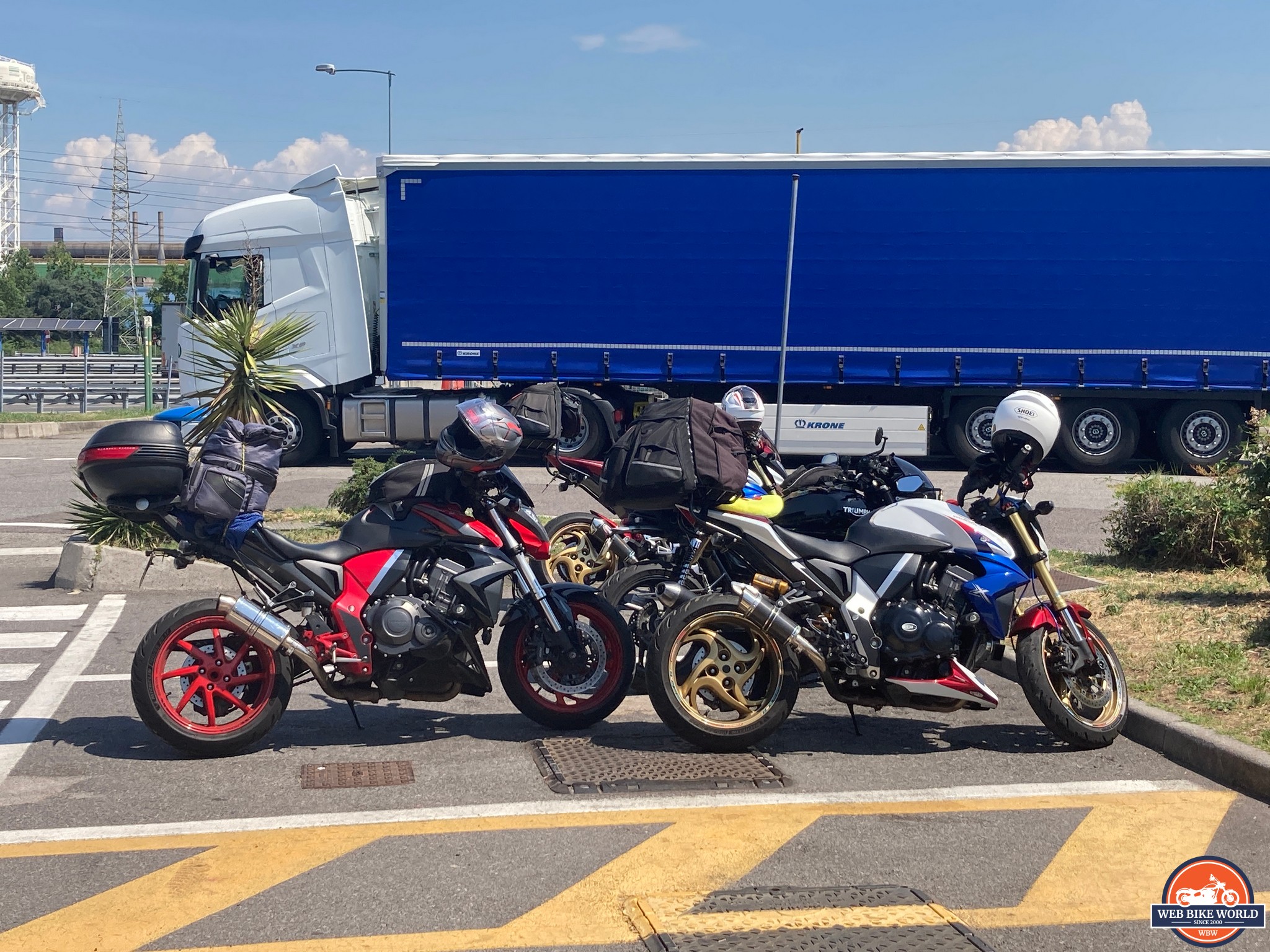 One of our many fuel stops.

We got chatting with the cafe owner and gave him the property address and he said he believed we were not quite in the right place. The cafe owner very kindly rang the property owners for us and we were indeed about 3 km away from where we should have been and the town we were staying in was called Vanzo! Okay!!
Finally we found the property which would be our base for the next five nights and were greeted by the lovely owners who showed us around the property. The property had a swimming pool, gated entrance (so our bikes were safe) and a pizza restaurant literally next door. How perfect is that! That's dinner sorted.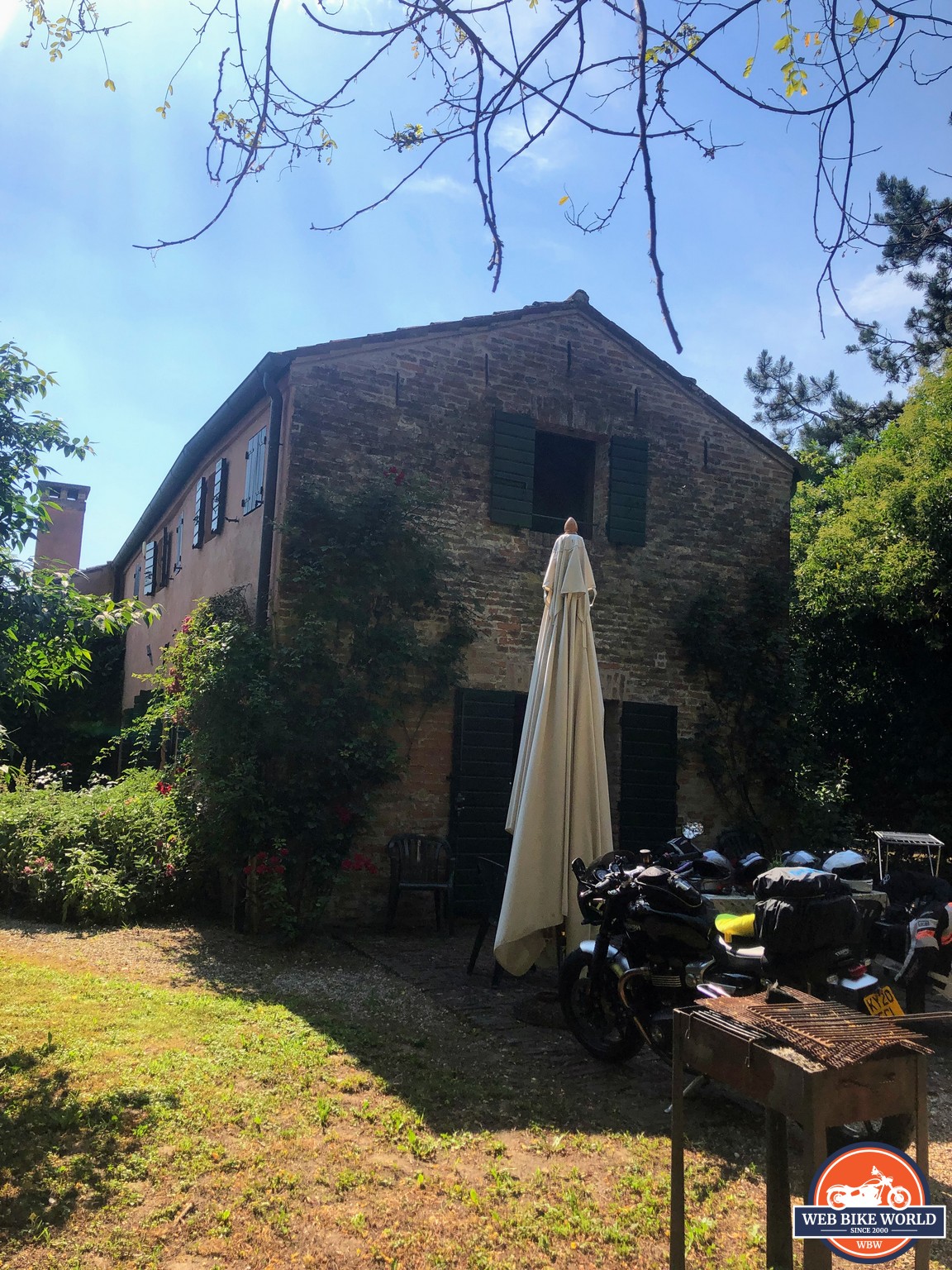 Our accommodation in Vanzo was beautiful.
As soon as we unloaded the bikes, we headed to the pool to cool down. It was a perfect way to relax after a very stressful ride. A couple of the chaps went to find the local supermarket for supplies and I headed for the shower to get ready for the long (2 minutes!) walk to the restaurant for dinner.
After dinner we came back and chilled in the garden before heading off to bed.
Day 4 – A much needed chill day
Chill day. After three days of hard riding we started the day with a swim followed by a leisurely breakfast that turned into elevenses! It was just what we needed.
Just before lunch we headed out on the bikes for a ride around the local area to see what we could find. We ended up going through a town called Monselice, following some winding roads where we stumbled across a little town up a hill! We parked the bikes and went for a walk in the hope of finding a café. We were in luck. Nestled up a side road was a café where we had a lovely ice cream and a couple of coffees and watched the world go by.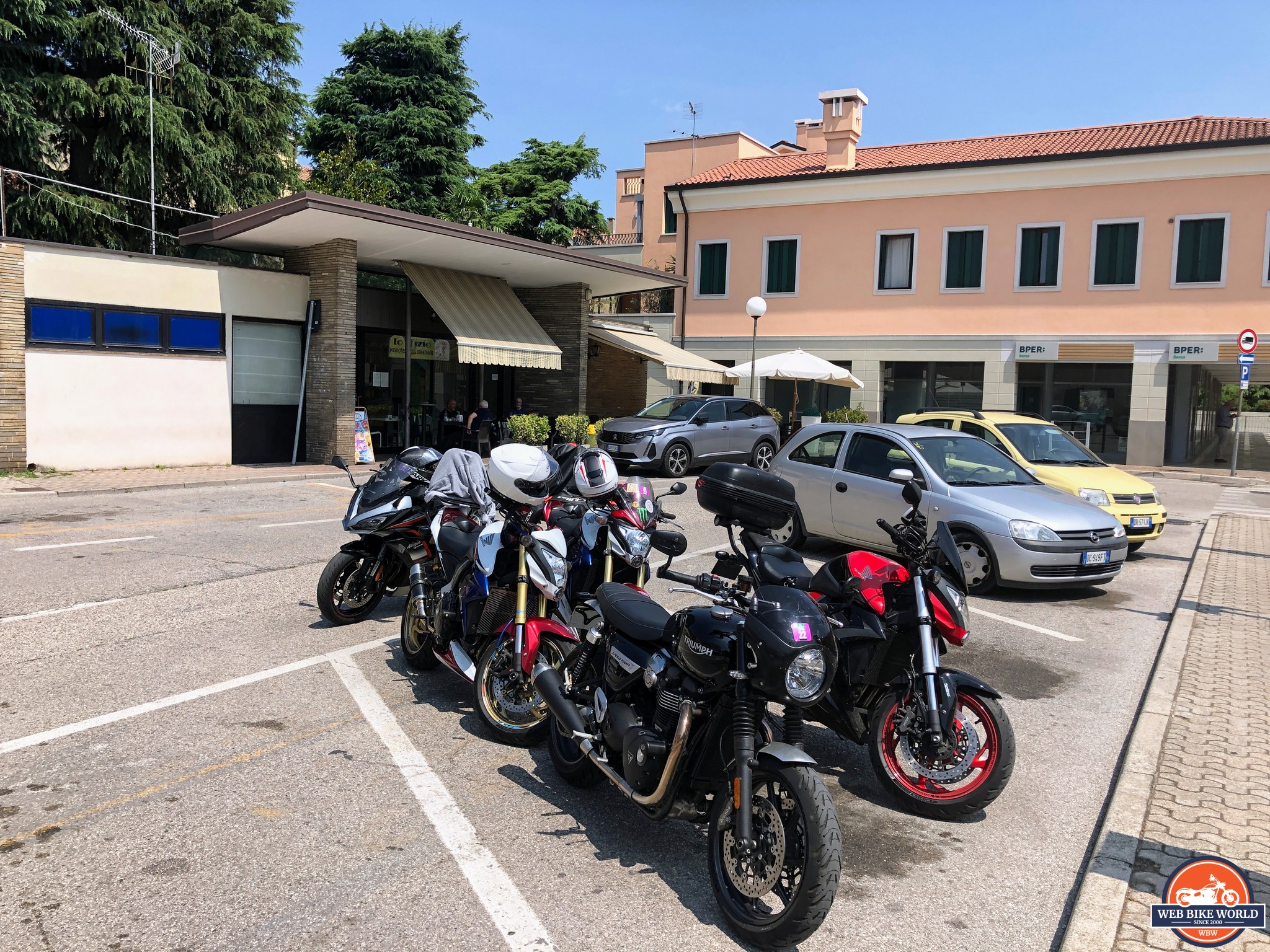 One of our many coffee stops, this was on the way back from Monselice.
When we got back to the bikes the guys were discussing the best way to get back to Monselice, I got bored waiting for them to decide and rode off deciding the best way would be to wing it. It was – not only did we find some good roads, we stumbled across another café too – perfect! 
We got back to our digs, had a swim, cooked some dinner and chilled in the garden with a beer or two. I could really get used to this.
Day 5 – Exploring Monselice
We rode into Monselice which is an historic old town with a castle and parked in the town square. We found coffee and a pastry (you're going to see a pattern emerging here ……!)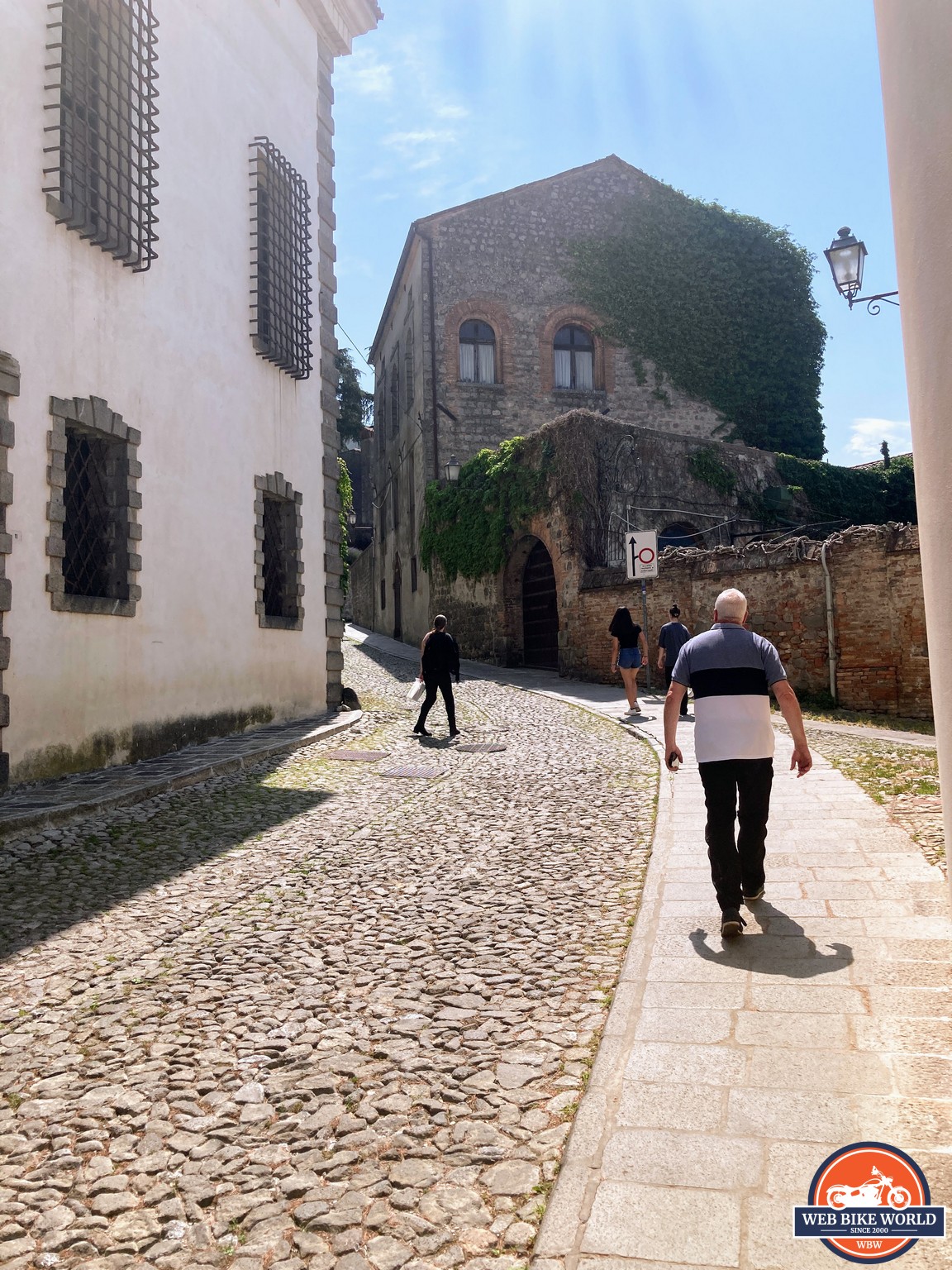 Walking up the hill to the castle in Monselice!
After coffee, although the temperature was mid 30's, we walked up the hill to the castle (very much worth the walk) and then carried on walking up the hill (I know, I think we're mad too!) where we found a church and some lovely views across the town.
By this time we were overly hot and bothered so we went back to the bikes, rode back to our digs and jumped into the pool to cool down.
Later in the afternoon, we went for a walk (yep, a walk in the afternoon heat!) into a local village called San Piere Vinamario, where we found iced tea.
I love walking around where we are staying, I find it's the best way to explore the area and find things to do/see that we did not know about. I normally find I meet some interesting people doing this and learn about their way of life/culture or just more about them.
Day 6 – Visiting beautiful Venice
No biking today. We had arranged for a taxi to take us to Venice at 8:00AM and pick us up at 8:00PM so we had the whole day there.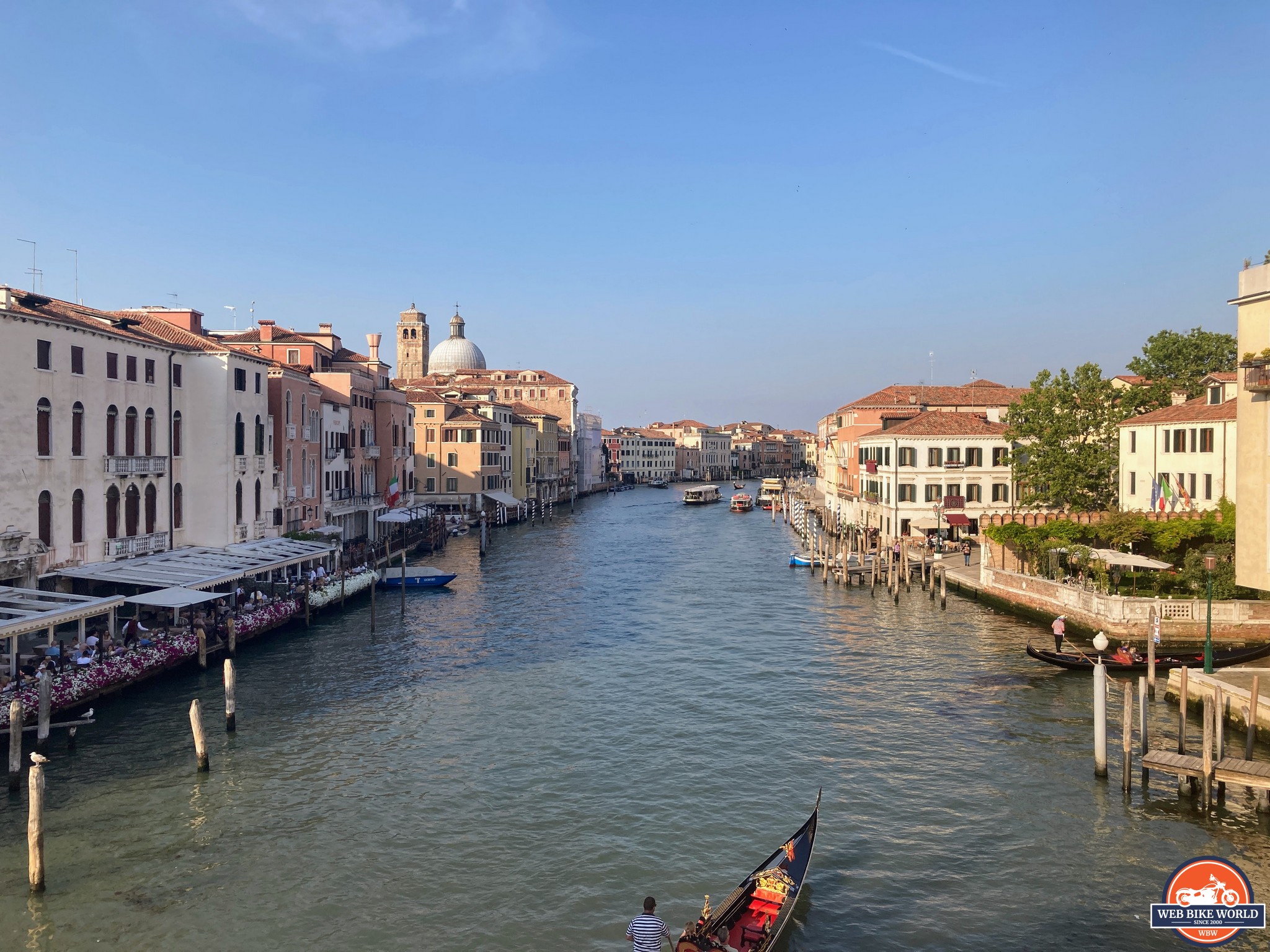 Beautiful Venice.
If you get a chance to go to Venice, you will not be disappointed. It is a beautiful place, lots of historic buildings, no cars – just boats and gondolas and plenty of walking! We found our way through the very many alleyways and streets checking out little boutiques and shops on the way, finally reaching St Mark's Square which was very impressive. 
The two cups of tea at 22 Euros ($22 USD) when we got there were not so impressive but we did sit and watch the world go by which was very relaxing.
We found a bar in one of the squares and sat for a while chilling and chatting. I love sitting watching the world go, you see some very interesting things.
There are very many eating places in Venice and late afternoon we went exploring them to find somewhere for an early dinner. We found a little restaurant nestled down an alleyway and sat outside in the shade soaking up the later afternoon warmth. Perfect.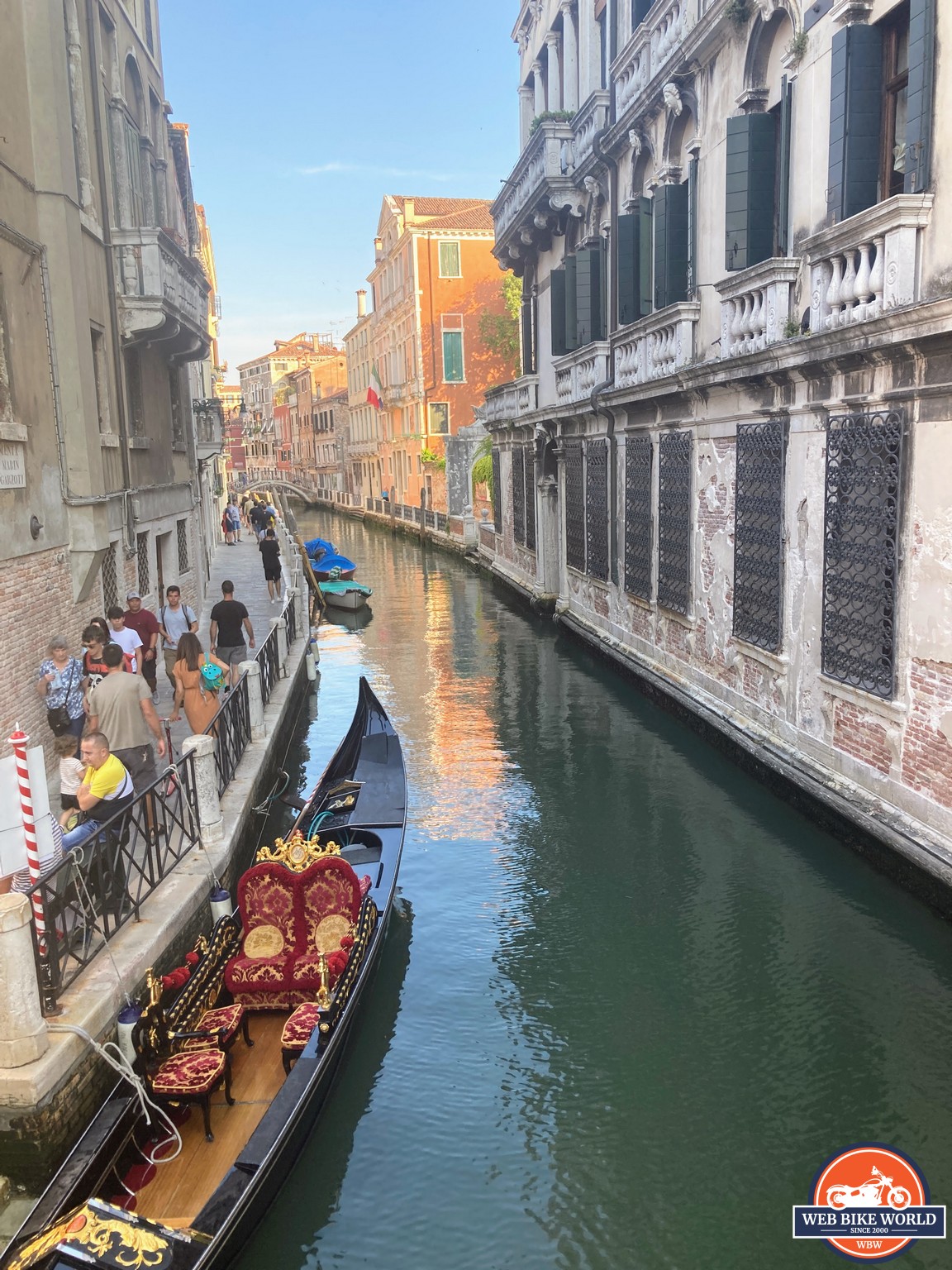 So many beautiful things to see in Venice.
After we got back to our digs, we lit a fire outside to keep the mosquitos away, had a few beers and had music playing. To be surrounded by our bikes in a beautiful place chilling with mates was perfect. I wish I could do this every day.
Day 7 – Finding Este, and what a great find it was
It was our last day in Italy before setting off for our next leg. I looked at the map and found what I thought looked to be a good route to a town called Este, which after research, seemed to be a historic town with a castle. We decided to head there to see what we could find and, more importantly, get some elevenses.
It turned out to be a great ride on some lovely winding roads to a beautiful town. We have found previously that the best way to explore somewhere and find the best roads is to ride round and we have found some great places by doing this. You never know what you will come across unless you start exploring.
We found a lovely little café that not only did very nice coffee, but also a very yummy tiramisu (I know not technically elevenses food but it was so worth it).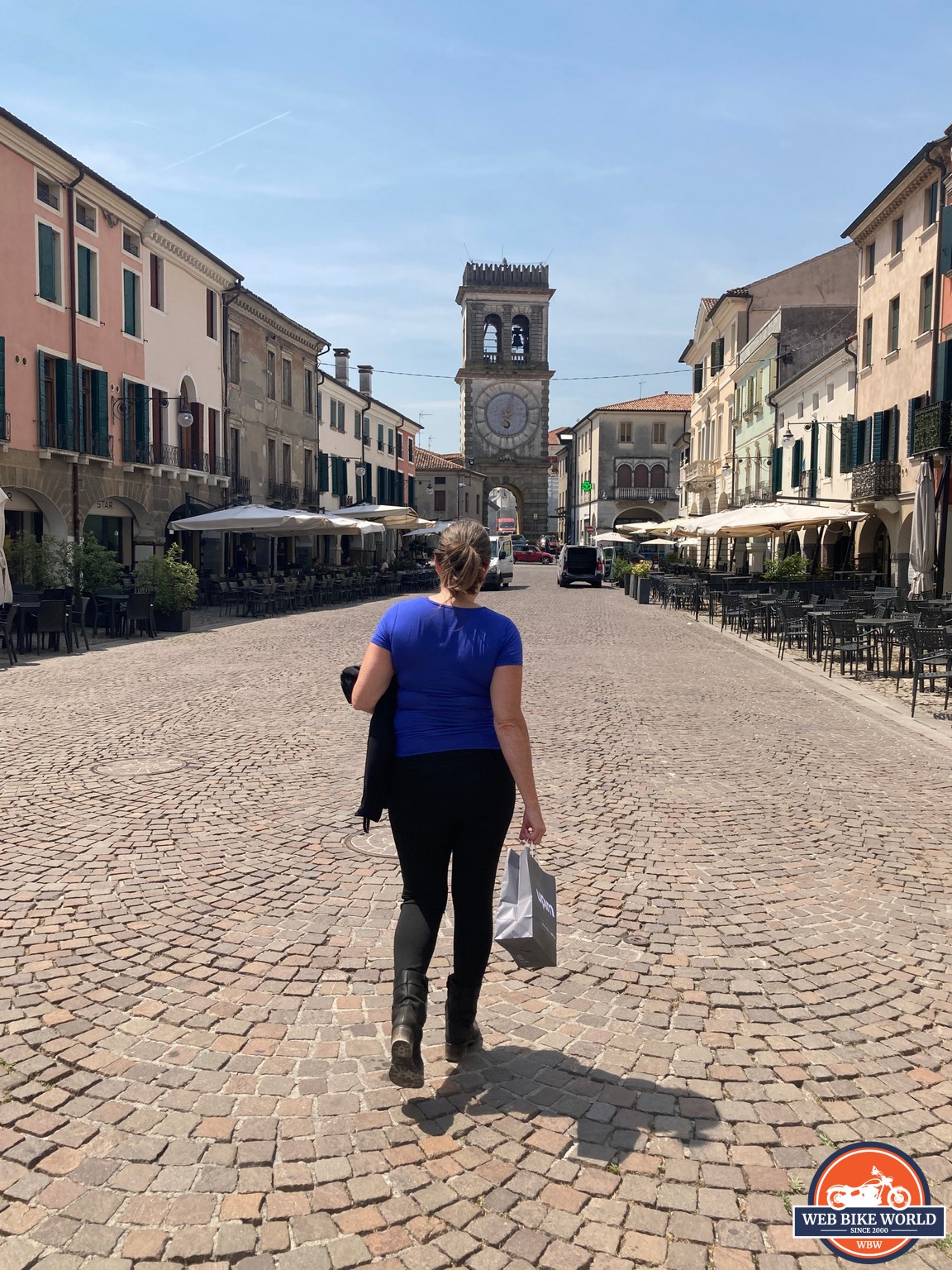 Clothes shopping in Etse (shh don't tell the o/h, I have to find room on the bike!)
After a relaxed wonder around the town, we rode back to San Piere Vinamario to a little bistro where we had a late lunch.
We headed back to our digs to start packing via the fuel station, where we filled the bikes ready for heading off early doors tomorrow morning!
A chill in the pool was so nice when we got back – I'm definitely going to miss the pool when we leave here!
Day 8: Leg 4 – Travelling through the beautiful scenery in Austria to Germany
Today we were leaving Italy and riding to Lake Constance where we were staying for two nights. As the temperatures were still in the 30s we decided to get up at 5:00AM and leave by 6:00AM to get a couple of hours riding in before it got too hot. Absolutely the right decision.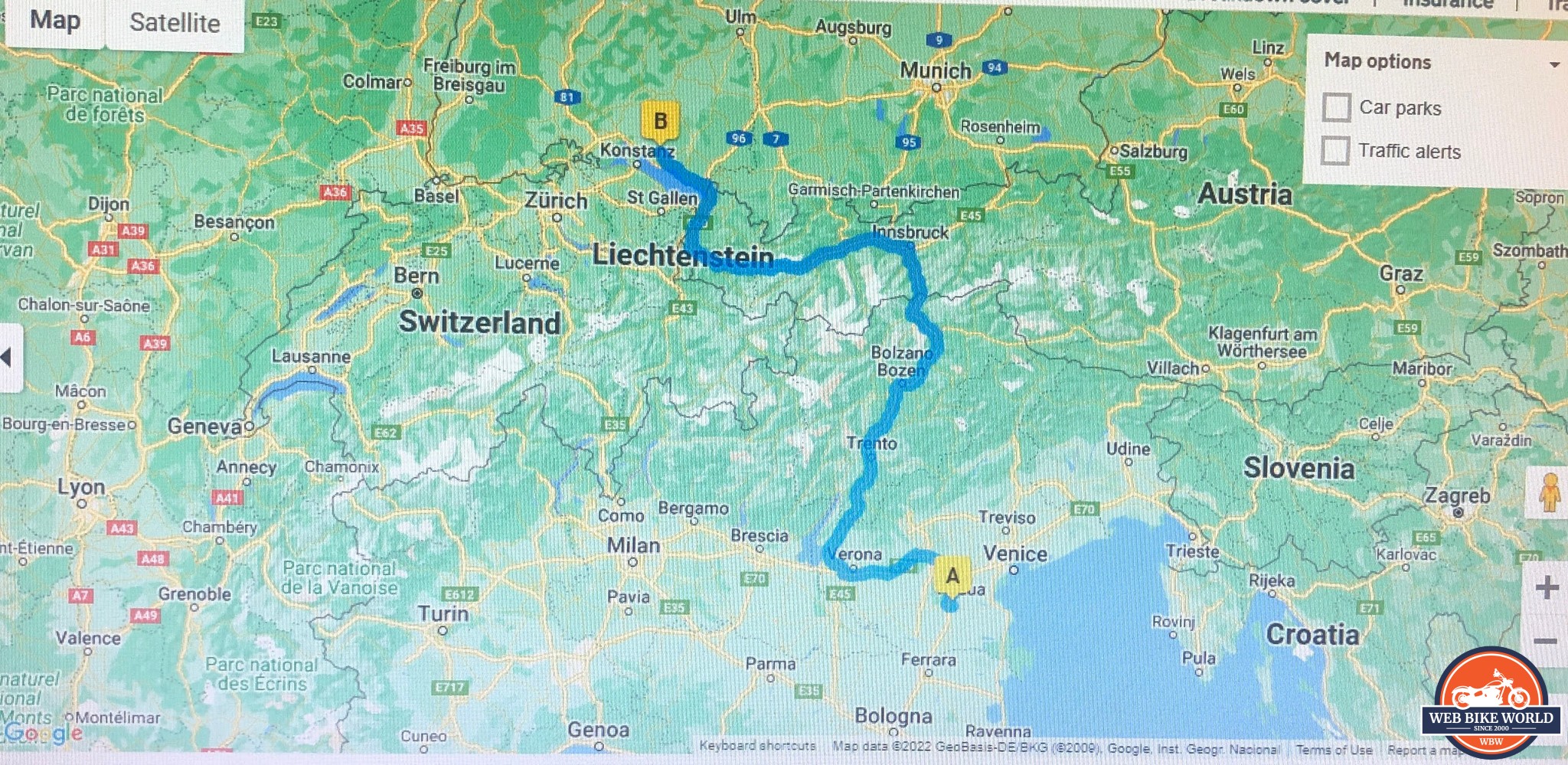 The fourth leg of our trip from Italy, through Austria to Germany; a distance of 377 miles.
We had made really good time when we got to Innsbruck in Austria where we had a pit stop. We had to buy a Vignette here too, which is an Austrian motorway pass. We had done half the day's mileage by this stage. Unfortunately, it went pear shaped after here. We all set off on the motorway and at a junction we were supposed to come off, only four of us came off. We stopped as soon as we could and tried to ring John but no answer.
We knew John had a sat nav and directions to the property so decided to carry on. We went through a biggish town where we got separated from Graham. Again we pulled over and tried ringing but there was no answer. We knew Graham had a sat nav and directions so the three of us set off!
The traffic was horrendous. Not only were there a couple of slow moving traffic jams but we also encountered two accidents. At one point we were parked up on the bikes for nearly an hour on the motorway as the traffic was at a complete standstill – there had been an accident in a tunnel. Nobody was going nowhere. Standing in the heat in our bike gear was fast beginning to lose its appeal.
Some 12 hours later (yep, 12 hours of riding and thankfully with my now trusty bright yellow cushion) we all made it to the property which was on a working farm. By some miracle they had a vending machine that not only had the usual chocolate bars, crisps and fizzy drinks but also had eggs, butter, milk and spicy sausages!
Dinner consisted of spicy sausage omelettes, chocolate and lots of fizzy drinks. Perfect end to a very long day of riding.
Day 9 – Chill day, this was very much needed!
Chill day. After the long day of riding yesterday, we had a very relaxed start to the day which consisted of another visit to the vending machine for eggs for breakfast. Very late morning we headed out on the bikes to a town called Meersberg which was about a fifteen minute ride to find coffee. 
Meersberg is a pretty town on the shore of Lake Constance, we parked up and had a wander around. We came across a few lovely old bikes parked up including a Miele (I thought they made washing machines!) and a Vespa.
I love exploring the towns we visit by walking, you see far more that way and many times will discover something I didn't know. More often than not, we will get chatting to people, I find most people are very friendly and we get to swap some interesting stories.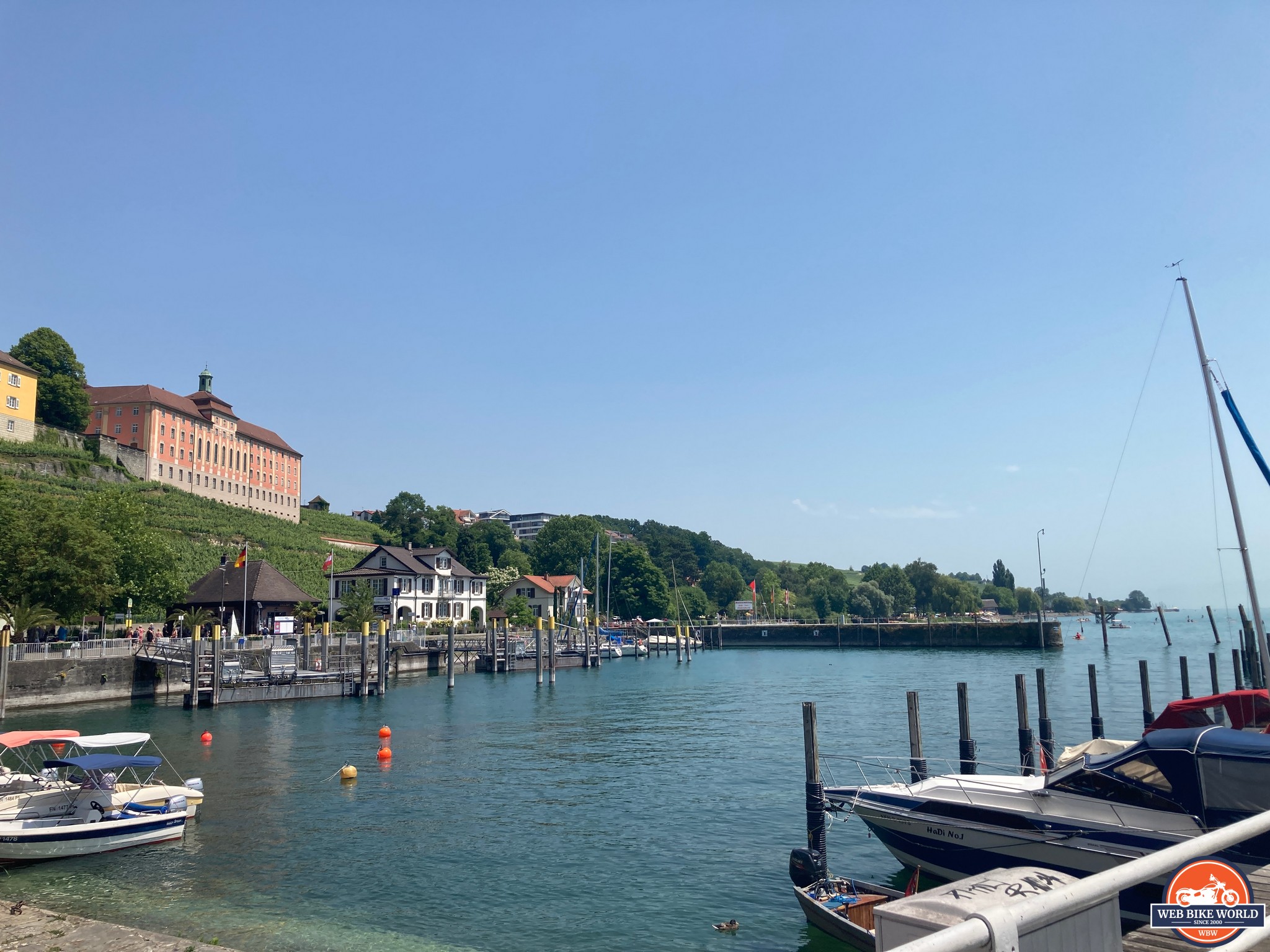 This pic was taken in Meersberg, not a cloud in the sky!
We stopped for lunch at a bar which, interestingly, had a Harley Davidson engine for beer pumps. I love quirky things like that – my coffee table at home is a Rover V8 engine that I blew up when racing (that's another story!) and I have a lamp made out of an old spanner!
After a relaxing afternoon chilling in Meersberg we headed back to our digs via a petrol station to fuel up ready for heading off on our next leg in the morning.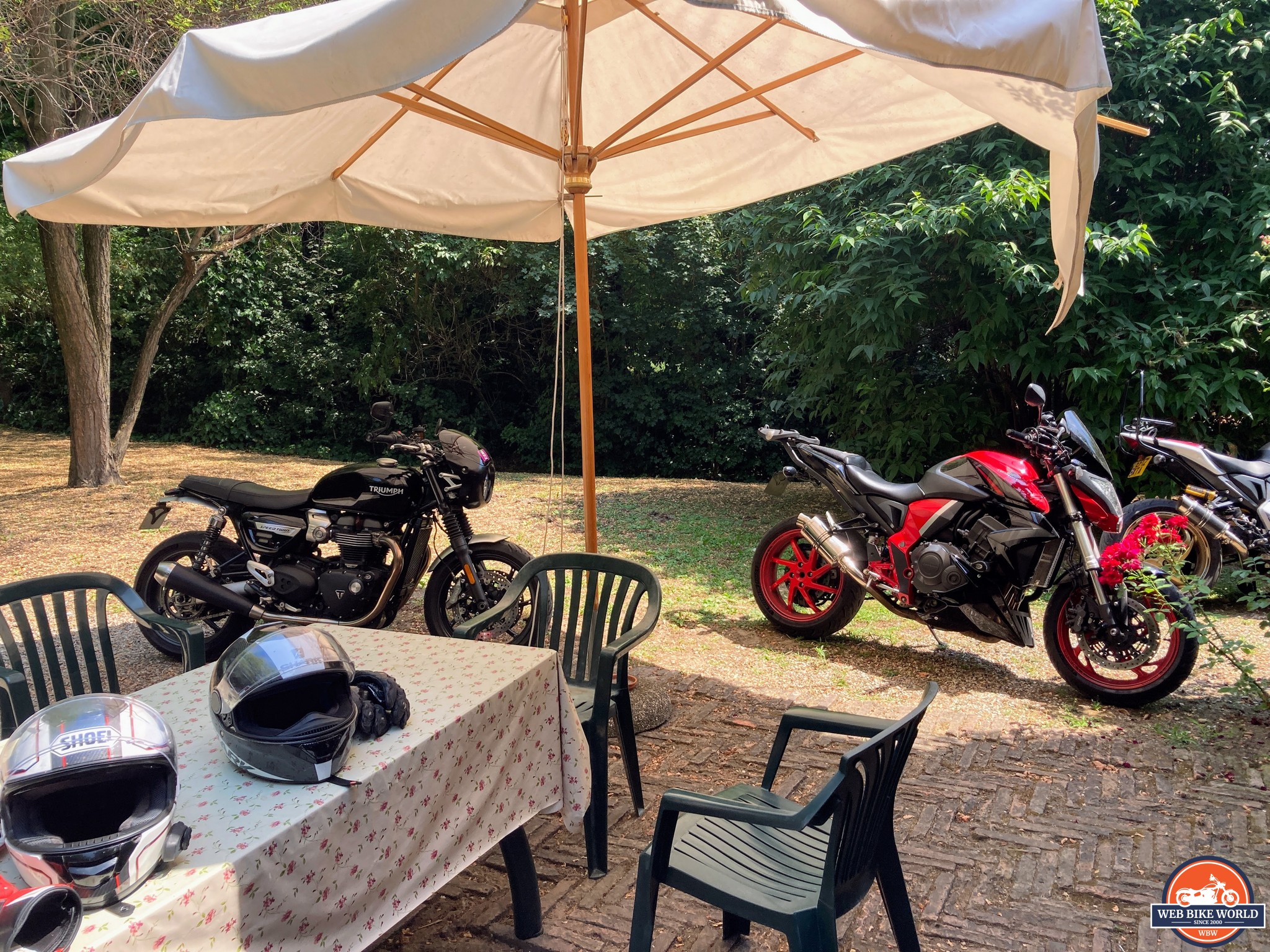 Relaxing with the bikes – perfect.
We had bought some food for the evening and sat outside with a couple of beers eating and drinking with lots of banter. I love this, to me this is a big part of touring and is the perfect way to spend an evening.
Day 10: Leg 5 – Heading to Belgium via Germany & Luxembourg
Today we would be riding up through Germany and Luxembourg into Belgium where we would be staying for the next five nights. As the temperature was still in the 30s, we decided to leave early again (6:00AM) to try and get a few hours riding under our belts before the heat kicked in as it worked so well last time.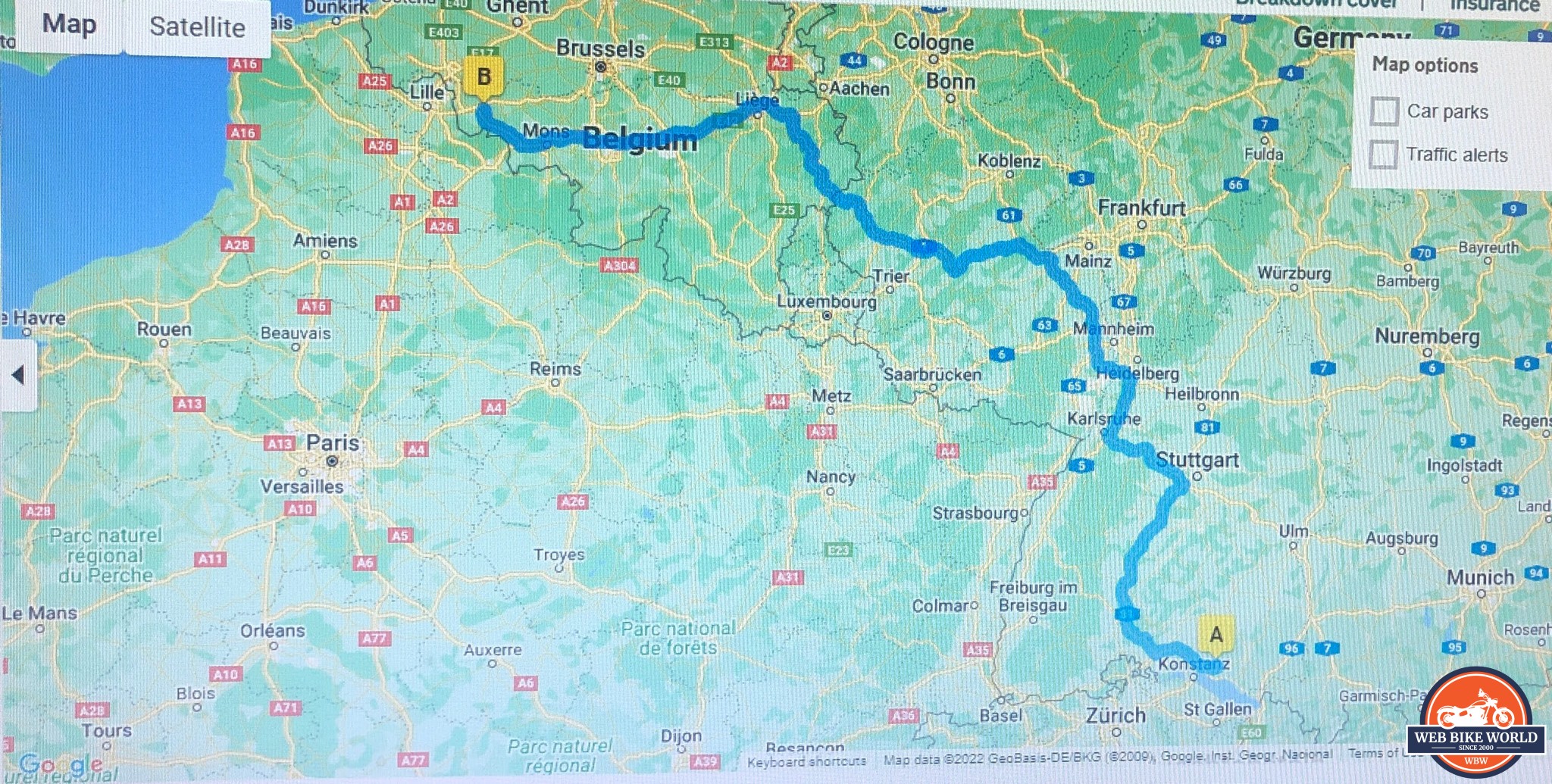 The fifth leg of our trip through Germany and Luxembourg, into Belgium; a distance of 432 miles.
We tried to be as quiet as we could when leaving our accommodation so as not to wake the other residents up but five bikes starting up and riding off is never going to be quiet! I just hope we will be welcome back again as it was a great place to stay.
We set off in sunshine, travelled through some showers which turned into rain and then had some hailstones thrown in too just to add to the fun. Fortunately the sun came out and dried us out.
This leg was one of our longest legs at 432 miles but surprisingly it was the easiest leg of them all in regards to riding. We had really good roads and didn't encounter much traffic.
One of the guys, Stephen, had been bitten on his lower leg by something (we still do not know what it was, could have been a mosquito or a spider, maybe) in Italy but didn't think it was anything to worry about. Unfortunately he had a reaction to the bite and was in a lot of pain. During this leg of the journey we had regular stops to rest his leg and ease the pain.
By the time we reached our digs in Belgium, late afternoon, Stephen was now in considerable pain and his leg was badly swollen, red and very hot! It was decided a trip to A&E was in order. The owner of our digs very kindly gave Stephen and I a lift to the local hospital in Tournai.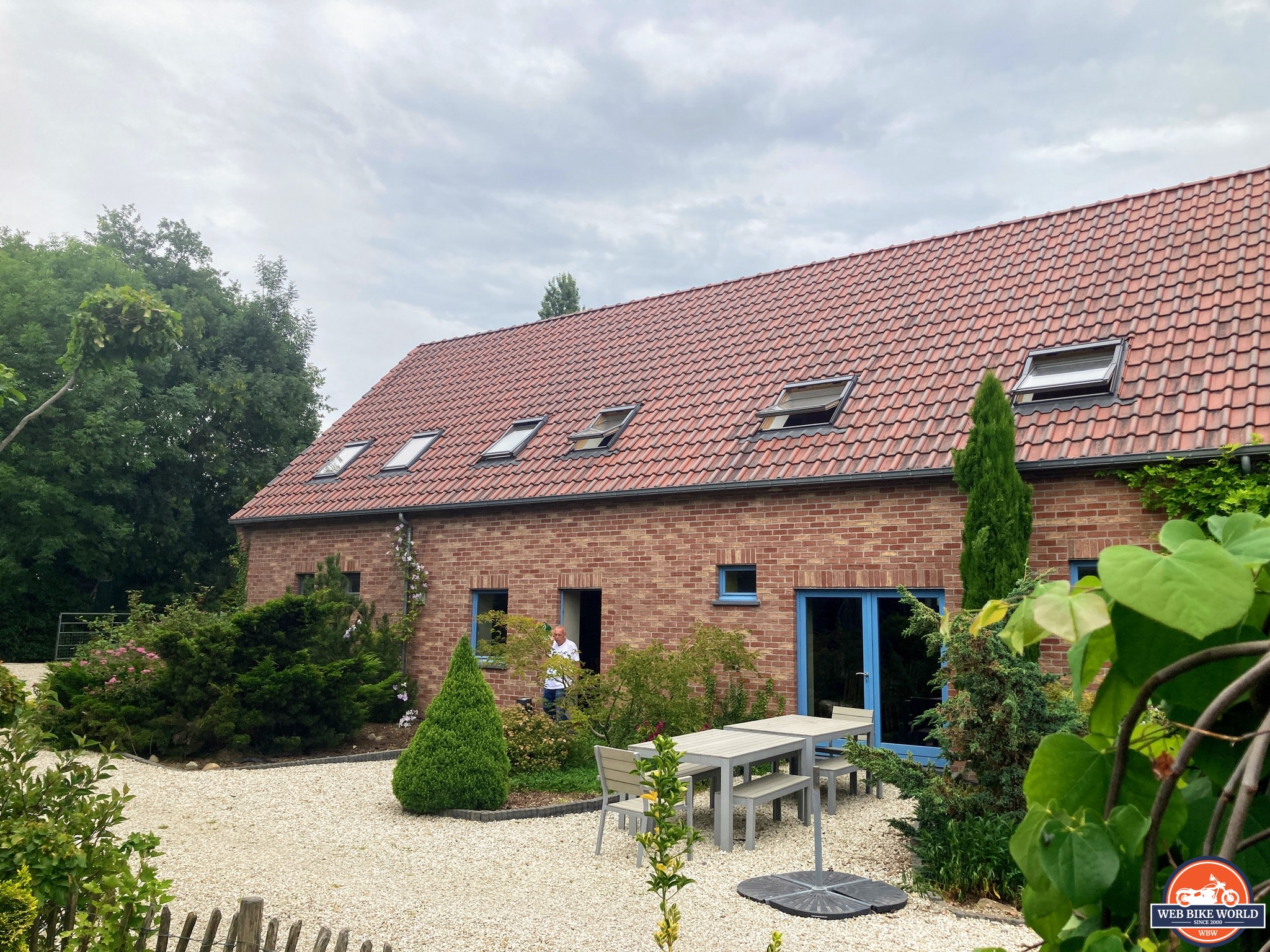 Our accommodation in Tournai.
Whilst Stephen was being treated by the medical staff I was in the waiting room. I must have been so tired from our day's riding because I fell asleep sitting upright in what can only be described as a most uncomfortable chair. I was woken about half past midnight by a nurse to say they were admitting Stephen as he needed IV antibiotics and fluid! Oooh eck, I was not expecting that, I thought he'd get a prescription and be sent on his way!
The nurse very kindly ordered me a taxi and by the time it came and I got back to the digs it was nearly two in the morning! Today had turned out to be a very long day indeed and not the outcome any of us expected.
Day 11 – Chill day, after an extremely late night!
Definitely a chill day. The guys had waited for me to get home before going to bed the previous evening so we all slept in today and had a relaxed breakfast and a chilled start to the day.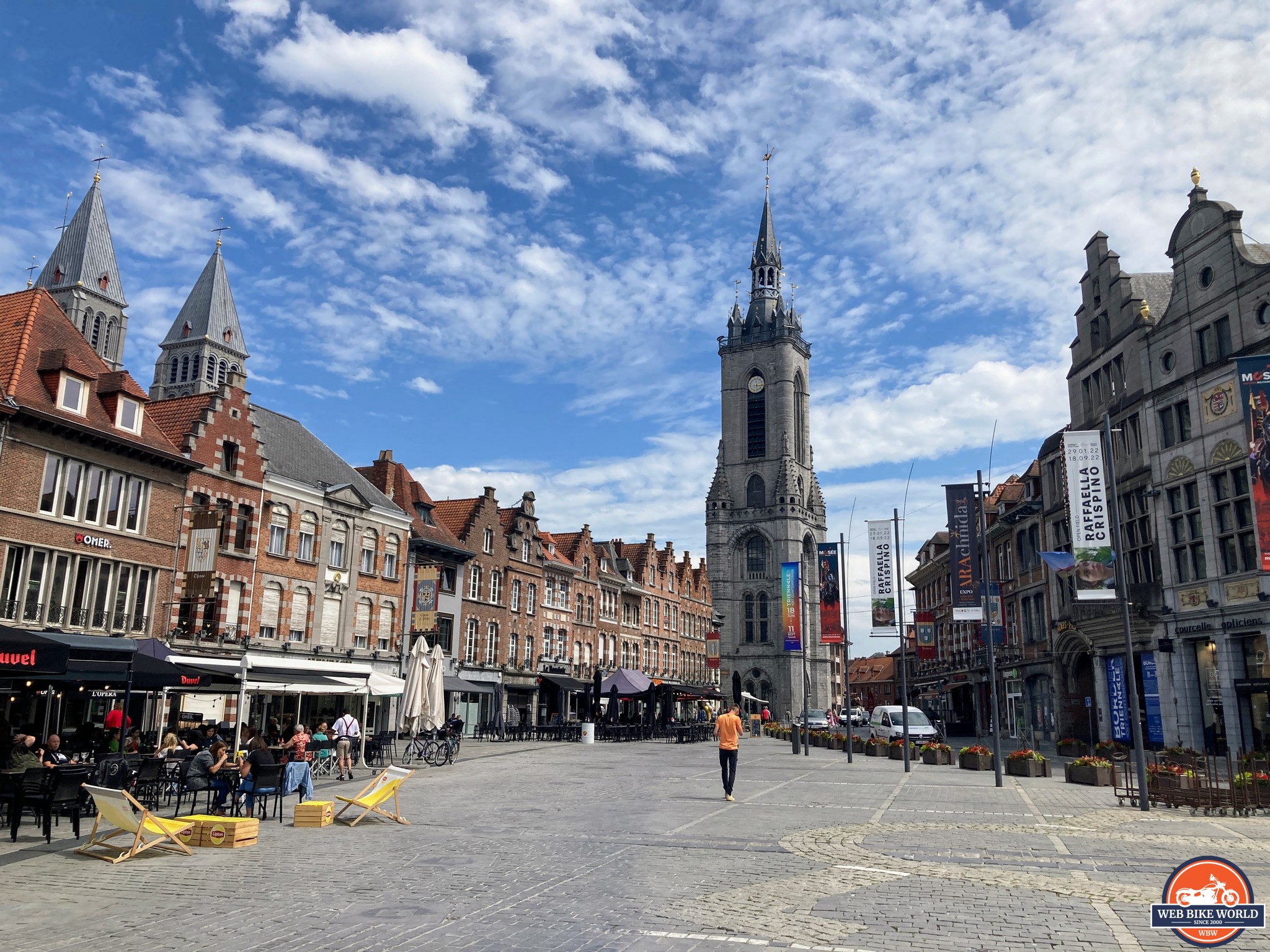 This is Tournai itself, lovely town with lots of eating places.
We had heard from Stephen that he expected to be kept in hospital for 2-3 days so we took some clothes, washbag stuff and phone charger to the hospital. As he was still in the A&E we were not allowed to visit so we went into Tournai itself to check it out and find coffee and food.
Tournai is a beautiful city and municipality of Wallonia with lots of cafes, bars and more importantly food. We found a table, ate and drank and watched the world go by. It was a perfect way to chill.
Stephen was sending us pictures of his food that he was receiving in the hospital and of the view outside of his window – there was building work going on outside the hospital. Who knew that a crane on a building site doing what a crane does best would become so exciting to someone!
Of course we didn't send Stephen pictures of Tournai and our delicious food – who would do that! Okay, we did but in our defence, and it is a very weak defence, we thought it was funny and would cheer him up. Apparently it did not!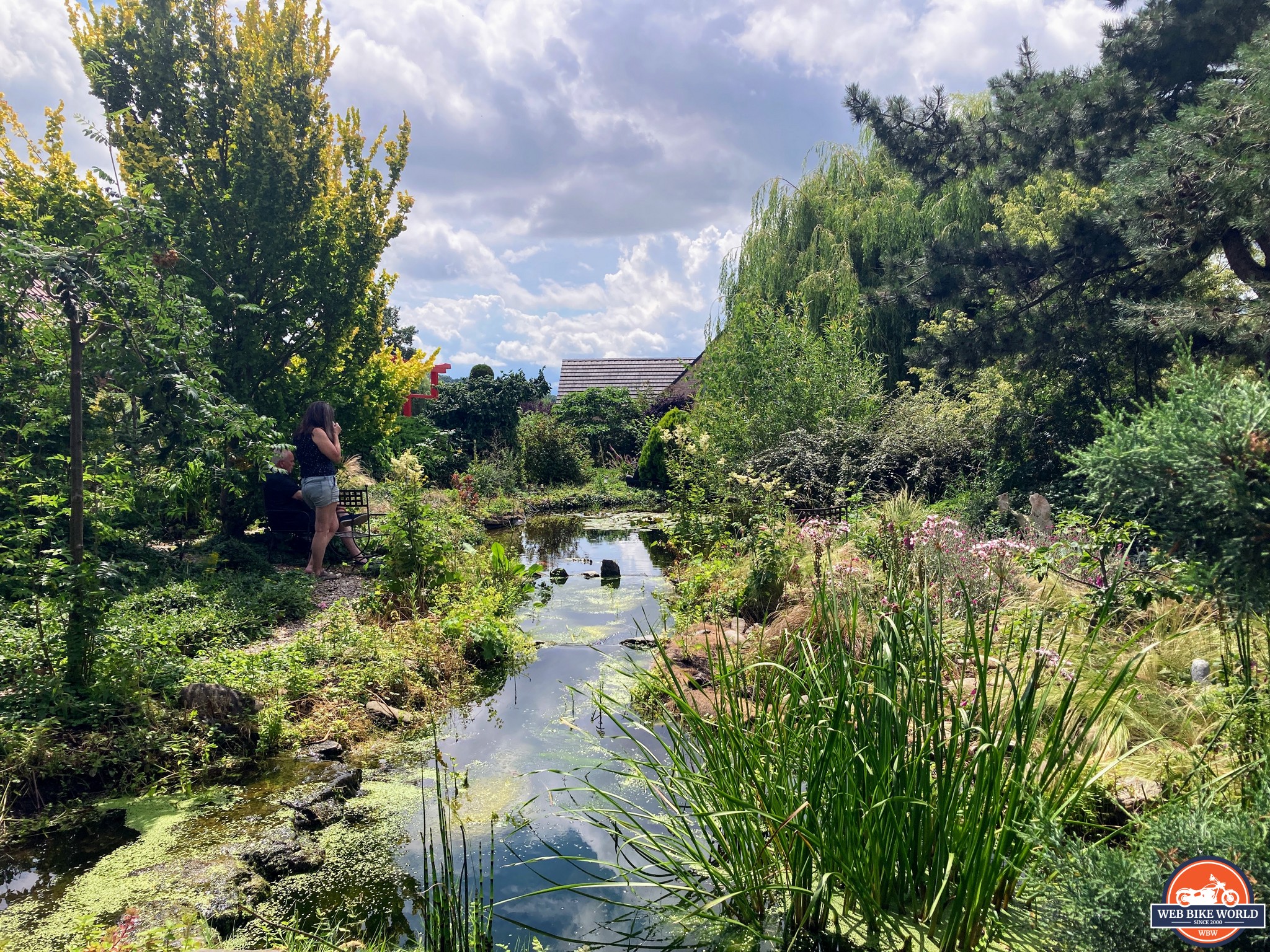 The Japanese garden at our accommodation in Tournai, very peaceful.
We stopped at the supermarket on the way back to our digs to get some food for dinner, drank a beer in the Japanese garden at our digs while the food was cooking and ate dinner outside. Perfect.
Day 12 – Our moving visit to Ypres
Today we headed to the World War One site of the Tyne Cot Commonwealth War Graves Cemetery in the Ypres Salient on the Western Front. It is the largest cemetery for Commonwealth forces in the world, for any war and is now the resting place of more than 11,900 servicemen of the British Empire from the First World War.

Tyne Cot Commonwealth War Graves Cemetery in the Ypres Salient.
It is a very moving place here, walking round looking at the headstones on the graves, I was hit by how so very young so many of the soldiers were. So young and so brave.
From there we headed to Ypres which was about 20 minutes away and parked the bikes. We walked into the town which was another beautiful town with many eating places and lots of chocolate shops. I was definitely going to check them out. The last time we were here it was pouring with rain so it was nice to see it in beautiful sunshine.
We walked through the town to the Menin Gate Memorial to the Missing at Ypres, which is dedicated to the British and Commonwealth soldiers who were killed in the Ypres Salient of World War 1 and whose graves are unknown. The memorial is located at the eastern exit of the town and marks the starting point for one of the main roads out of the town that led Allied soldiers to the front line. Both places were very surreal and thought provoking.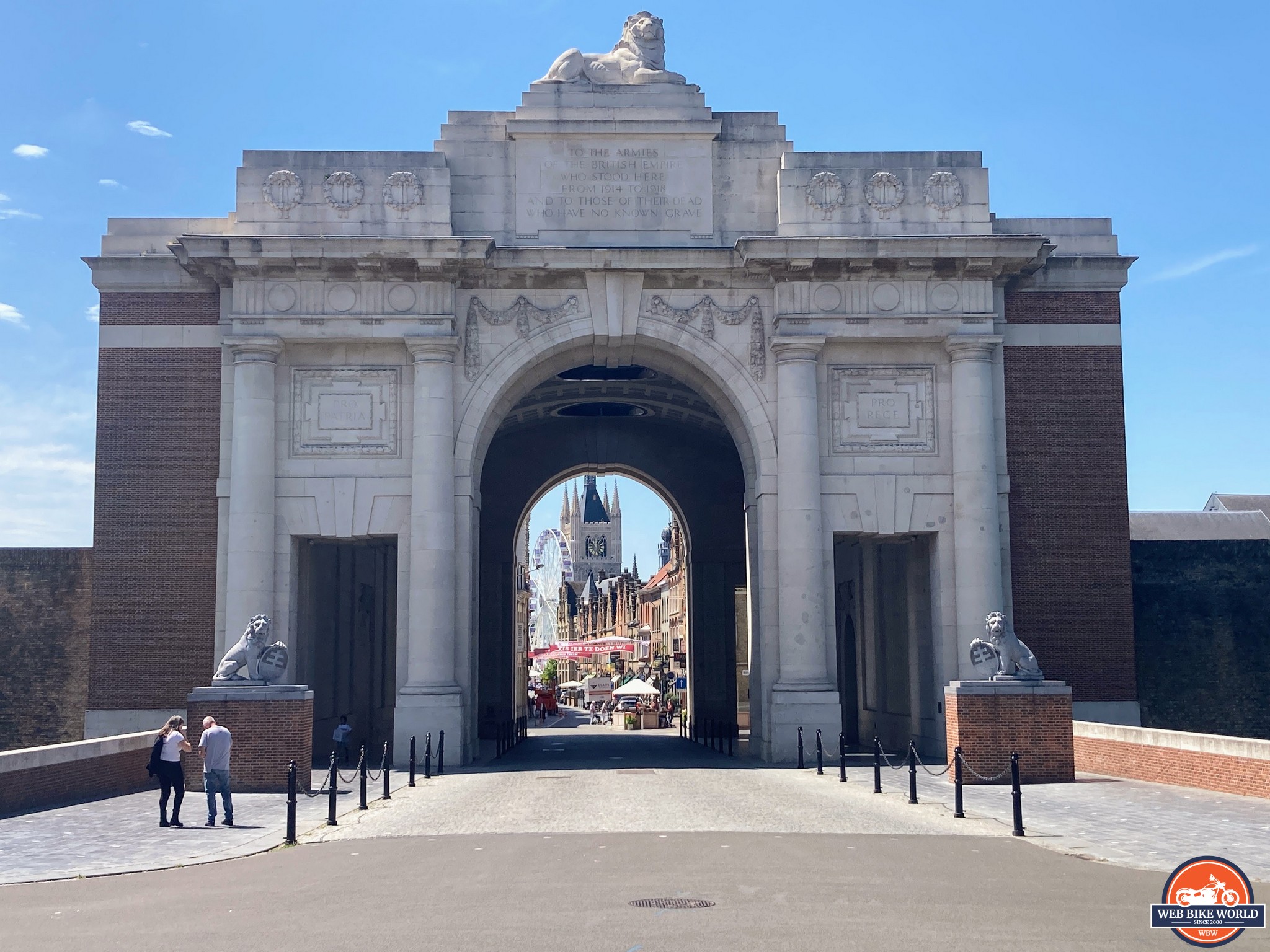 The Menin Gate in Ypres.
Each night at 8 pm the traffic is stopped at the Menin Gate while buglers of the Last Post Association sound the Last Post in the roadway under the Memorial's arches. This has been taking place since the 1st May 1929. It would have been our honour to stay for this but unfortunately we had to get back to Tournai to visit Stephen who had been moved to another hospital in Tournai which allowed visitors from late afternoon til 8 pm. 
After our hospital visiting duties were done, we found a Chinese restaurant for dinner which had a fabulous selection of food and drink. All you could eat and drink for 30 Euros ($30 USD). There was beer and wine on tap but unfortunately for us we were on our bikes so soft drinks it was for us, but still really good value.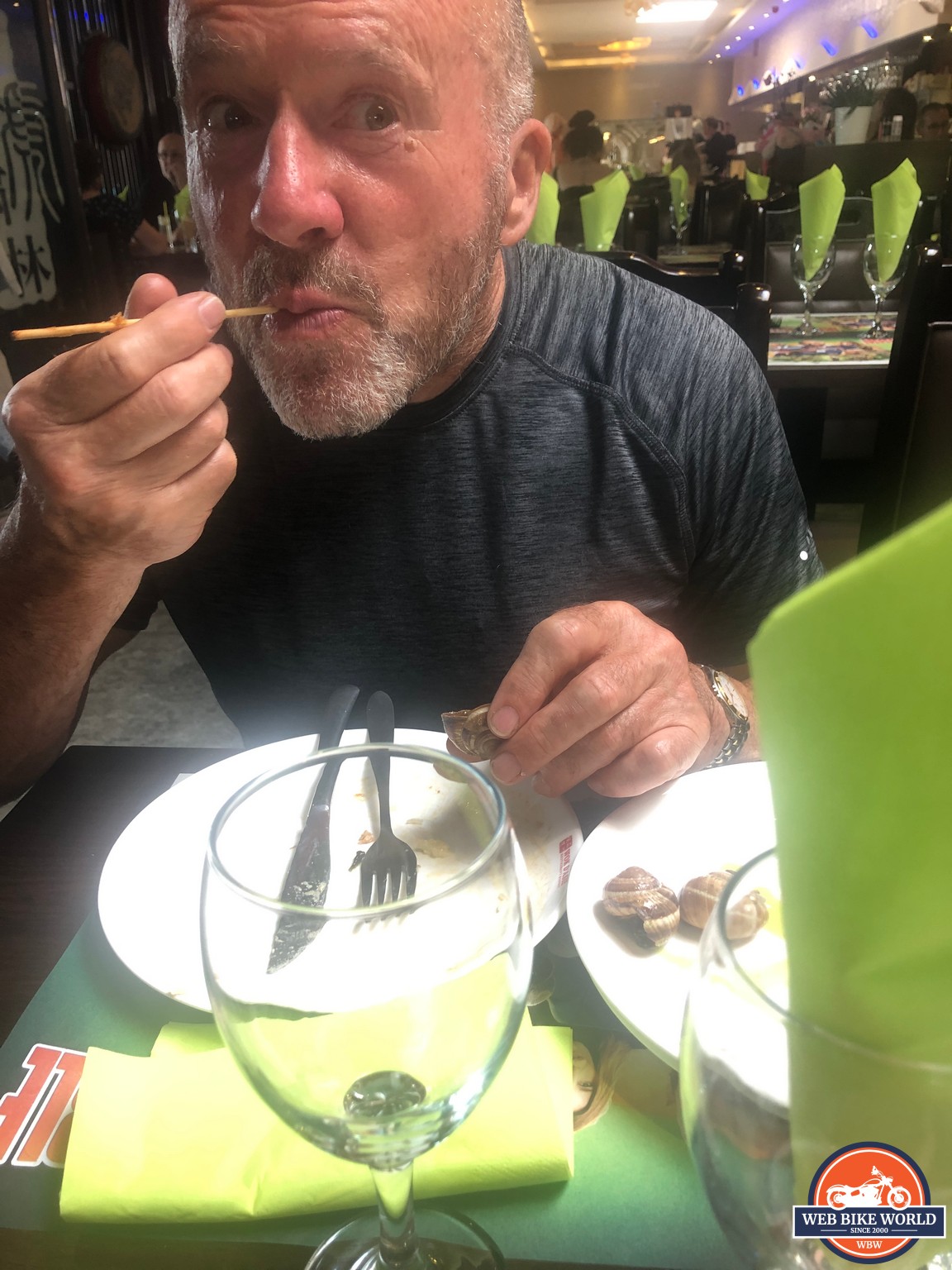 John eating snails! Just eww!
One of the dishes on offer was snails so I challenged John (he eats anything!) to eat one. Ewww! John ate two!! Ewwwwwwwwwwwwww!!!
Day 13 – Lots of classic cars and bikes to see in Leuze
After a relaxed breakfast, we took a ride to Leuze to Musee de L'Auto which has classic cars and bikes. When we arrived we got chatting to the museum chap who told us the history of the museum. It was set up after the war in 1945 by Ghislain Mahy. Ghislain already owned an FN motorcycle (the world's first 4 cylinder) and also a 1921 Ford Model T.
When the Korean war started they needed all the metal they could get their hands on to make weapons and they started using old cars. The chap that set up the museum tried to save as many of each make and model of car that he could. A  1915 Benz Karpatensieger and a 1921 Fiat Limousine joined the Model T and the FN motorcycle and then followed a 1915 Wanderer, a superb Belgian 1906 Fondu, a 1920 Rolls Royce. The collection started growing from there.
Musee de L'Auto in Leuze.
I took a shine to an Alfa Romeo Giulia which I could see myself driving about in, such a cool little car.
We went back via Tournai for a very late lunch before heading to the hospital to see Stephen.
Day 14 – Sadly, our last day 🙁
Our last day of our adventure before heading home! How did that happen so quickly. The last two weeks have completely flown by.
When we woke up it was pouring with rain but the forecast was better for later so we decided to do our packing and get as much sorting out as we could get done while it was raining.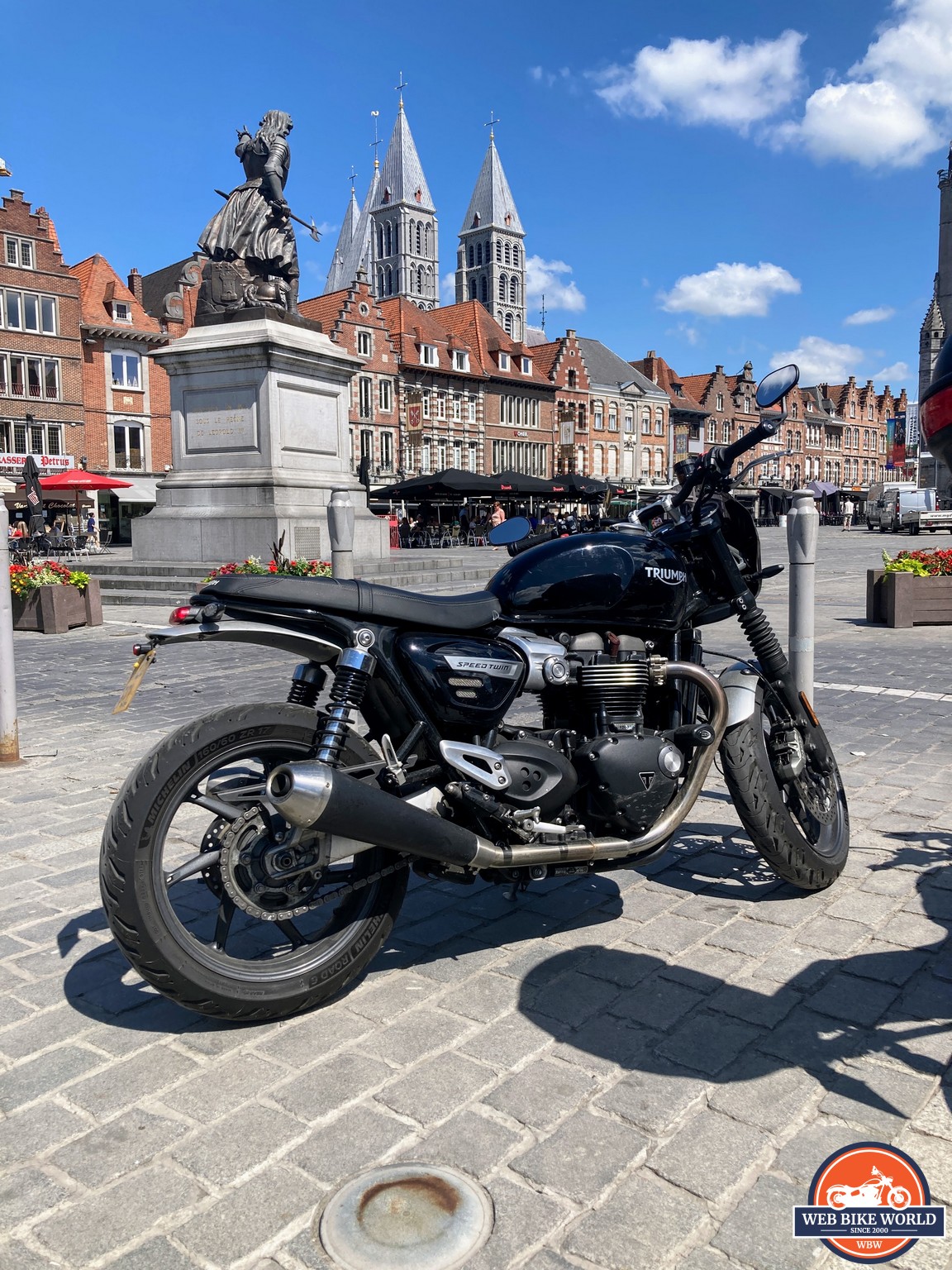 My bike looking beautiful in Tournai.
Stephen was discharged from the hospital this morning and, having got a taxi back, arrived just before lunch. Although his leg is still red and swollen it was so much better than it was.
After chilling for a bit, the sun came out and Stephen said he wanted to go into Tournai to have a look round and get something to eat, after all he had been in Belgium for the last five days and had seen a church and a crane out of his hospital window and wanted to see a bit more!
Tournai it was. It was a good idea also to get Stephen back on the bike, even if only for a short ride, in readiness for our journey home tomorrow.
After a lovely lunch, wonder round and last minute chocolate shop shopping (I did wonder how much of the chocolate would actually make it back home as I am a definite chocolate lover!) we headed back for a chill in the Japanese garden before dinner.
Day 15: Leg 6 – Heading back home
Homeward bound. All too soon our Italian adventure was coming to an end but what a fantastic adventure it has been. Apart from Stephen's stay in the hospital which is obviously a low point, we have had a brilliant time, the weather has been amazing and the banter has been so much fun. The temperatures while we have been in Europe have been mid to late 30s. Other than a couple of rain showers, we have been really lucky with the weather.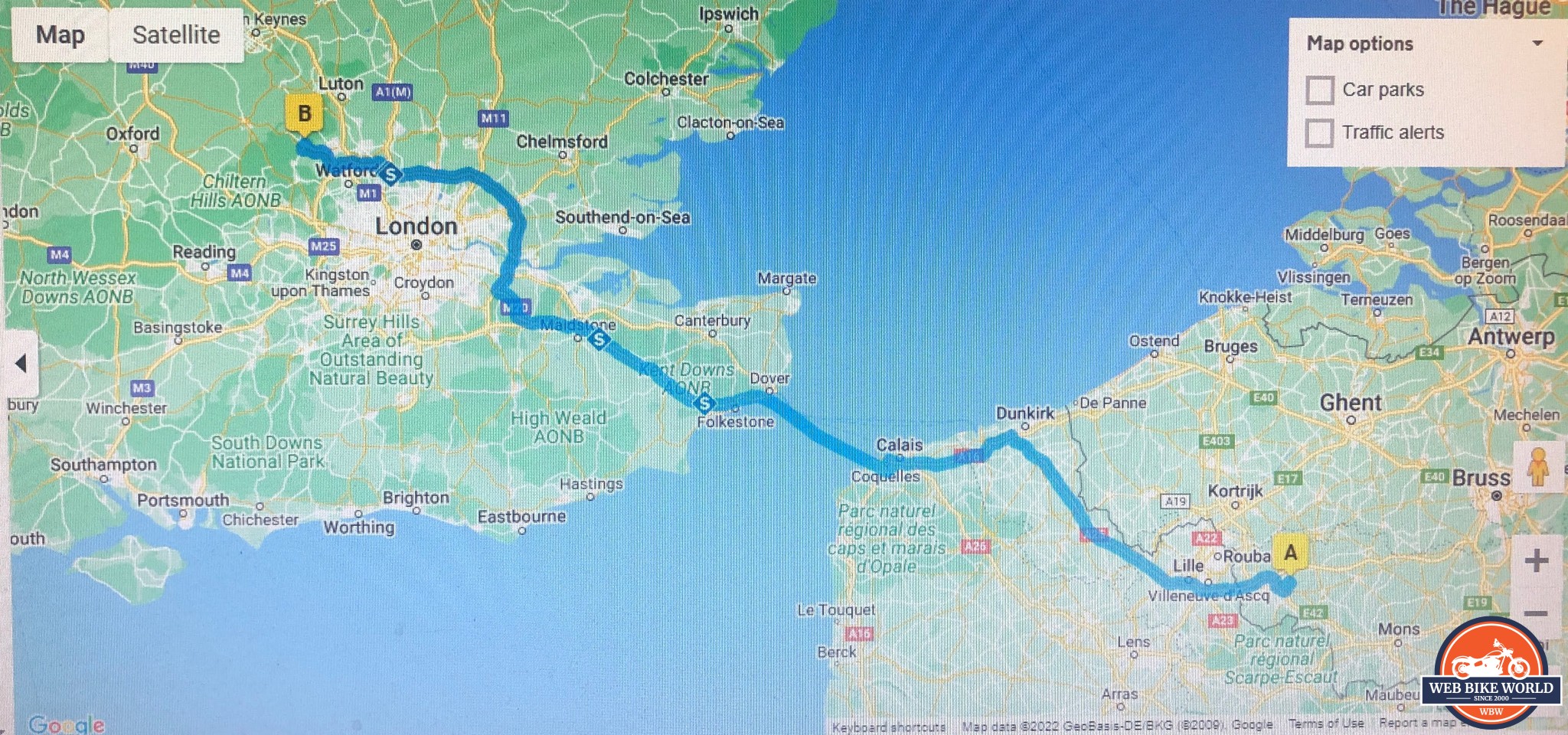 The sixth and final leg of our trip through Belgium and France, into the UK; a distance of 232 miles.
We made the short journey to the tunnel, (hour and a half) and boarded. 
When we were going, everyone was so excited to be on the tunnel imagining what adventures await us. Now of course, it was back to reality so the mood going back was a little sombre.
Great mates, beautiful accommodation, stunning scenery and some terrific banter. If you get a chance to get away on your bikes with some mates, grab the opportunity with both hands and hang on for the ride – you'll love it.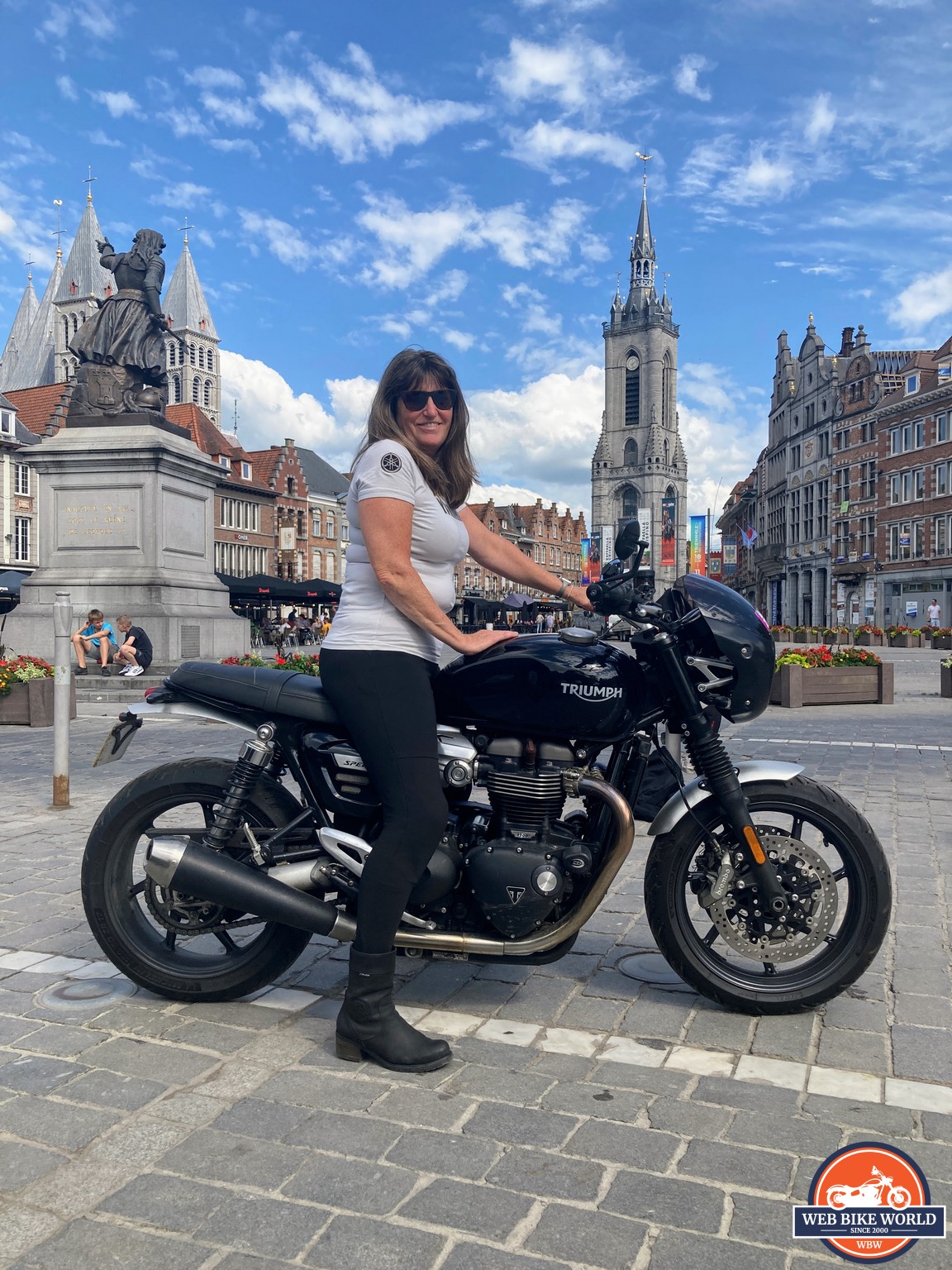 Myself and my bike, a great partnership.
Five of us, 15 days, 7 countries and 2,414 miles. What a blast. What an adventure. I absolutely cannot wait to get planning the next one 🙂
What Riders Should Know When Riding Cross-Country
If you're planning an adventure, no matter how big or small, here are some things I have learnt during my riding tours:
I often get asked if you should buy an adventure type bike for the journey. While you can of course do this, I would say you can go touring on 'your everyday bike'. As you can see, I have just done my first trip on the Triumph Speed Twin (which is a retro styled bike) but previous to this, my touring has been done on my Kawasaki Z900 (described by Kawasaki as a streetfighter bike) and my previous bike, a Honda Hornet 600. In my opinion, and it is just my opinion, you don't need panniers and lots of kit, just strap a tail pack on the bag, a tank bag on the front and away you go.
If you were travelling for many weeks or months across different terrain and countries and camping was your only option, then yes, you would probably need a bike that was purposefully designed for this that could accommodate your luggage but let's be honest, there are not many of us that will have the opportunity to do that (unfortunately!)
Wearing the right gear is a must in my opinion. I always wear protective clothing even if I know the temperature is going to be high. It really is not worth the risk riding without it.
Depending on where you are going and the climate, you can get riding gear to accommodate this. For a warmer climate, there is some great ventilated riding kit available which will also give you the protection you need when riding whilst keeping you cool (e.g., cooling vests).
Likewise, if you are going to a colder climate, there is some brilliant riding gear out there that will keep you dry and warm whilst keeping you protected. Think about where you are going and what riding gear you need before you go.
Be prepared to be flexible with your plans. If a bike breaks down or you or someone with you becomes ill, you may need to re-think your itinerary and make other arrangements. Have a good accommodation booking app downloaded onto your phone so you can make any last minute travel arrangements should you need to and make sure you have lots of credit/data available on your phone as you may need this.
I hope you guys are inspired to start planning your own adventure having read about mine. Let me know about them and I'd be interested to hear any tips/suggestions from you guys for things that would make my next trip better.
Have fun and ride safe guys 🙂 
– Biker Kaz
Europe Bike Trip Photo Gallery
Related Posts