Sally French

You know how you book a room that's initially advertised at under $100 per night and then it has suddenly ballooned to more than $150? That's partially because of taxes, but another huge chunk is likely from resort fees.
Some hotels have more offensive resort fees than others, and — while resort fees tend to run between $20 and $50 among hotels that charge them — they can vary dramatically in price (especially as a percentage of overall trip cost).
Why resort fees are so annoying
Sometimes referred to as amenity fees, destination fees, facility fees or resort charges, these semi-hidden fees are one of the most brutal — and increasingly common — aspects of travel.
The first known resort fees sprung up as early as 1997, according to the Federal Trade Commission. It didn't take long for customers to begin complaining, and in 2012, the FTC sent warnings to 22 hotels that resort fees were not adequately disclosed on their hotel reservation websites. Though resorts have since modified how they disclose resort fees, many complaints still exist.
Much of that is due to what fees actually cover. Back in the day, resort fees were charged to justify luxury amenities associated with the room. More frequently now, though, hotels tack them on to rooms that aren't resort-like in any way.
Resort fees are a significant portion of your vacation budget
NerdWallet analyzed more than 100 hotels around the U.S. with January 2023 check-in dates. Among the hotels that charge resort fees, the average resort fee was $42.41. Relative to the room rate, resort fees averaged 11% of the overall cost to stay at the hotel each night.
But especially at lower-cost hotels, resort fees can represent a bigger chunk of your lodging expenses than that. Take, for example, the DoubleTree by Hilton Hotel Alana on Waikiki Beach. At the initial booking page, you're presented with a one-night stay in October 2023 for $235. But then you're hit with an additional $49 in taxes and $35 for a resort fee, bringing your total cost to about $320. That's a 35% increase over the price you were presented with. And depending on the price of your room, resort fees can sometimes amount to far more than 35% of your room rate (and sometimes the combined taxes and fees amount to even more than the room rate itself).
Resort fees cover bizarre expenses
Sure, some hotels charge resort fees that are arguably worth it. The $48 resort fee at Hyatt's Andaz Maui in Hawaii gets you a welcome basket of local snacks including Maui Brewing Co. root beer, guava juice and macadamia nuts, free snorkel equipment and GoPro rentals, and free lessons in ukulele, hula, stand-up paddleboarding and cocktail making. There are also free outrigger canoe rides, among other benefits. At The Ritz-Carlton Bacara in Santa Barbara, California, the $50 resort fee includes fitness classes, tennis racket and electric bike rentals and guided hiking tours.
But at many other hotels, resort fees cover extras that are hardly extras at all.
At the Excalibur in Las Vegas, the $35 daily fee includes gym access and Wi-Fi (even though most nonresort hotels offer free Wi-Fi and gym usage anyway), plus unlimited calls from the room. Additionally, it covers free boarding pass printing (in case you still prefer them to mobile boarding passes).
Resort fees are mandatory
In most scenarios, you can't just refuse to pay a resort fee, even if you never set foot in the hotel gym. 
Unlike baggage fees on an airline, which are avoidable by not checking luggage, there is no (easy) way to avoid resort fees. Instead, these fees are simply tacked on at the final step of checkout.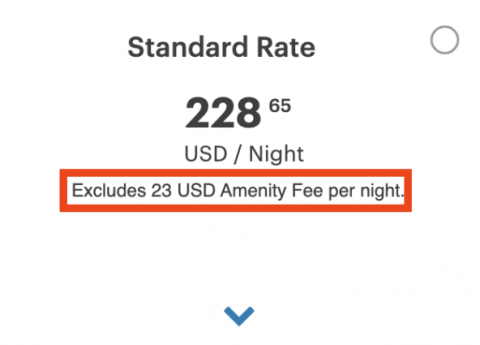 How to avoid resort fees
Because resort fees are required on rooms that charge them, avoiding them requires effort.
Book resort stays with hotel points (at some brands) or with elite status
When you book rooms on some points, some resorts still tack on resort fees, which you must pay in cash on top of the points rate. But at Hilton Honors and World of Hyatt, resort fees are waived on award bookings. This is a win-win because you won't be paying cash for the room — or the annoying fee.
The best hotel elite status programs don't charge resort fees to their most loyal members. Hyatt doesn't charge such fees to Globalist members, which is the highest elite status level in the program. Because Hyatt charges some of the highest fees in the industry, this is an especially valuable perk (though realistically, it's not one that many travelers can reasonably consider).
Use travel statement credits
Some travel credit cards offer statement credits that cover a broad definition of travel. Charge a covered expense to the card (which can often include ferries, buses, campgrounds and extra fees like luggage), and you can get a reimbursement. Typically, resort fees are also reimbursed under the travel statement credits.
Make your case in person
Sometimes asking an employee to waive your fee may do the trick. You cannot simply refuse to pay resort fees, but — just as some hotel employees are occasionally empowered to compensate you — the employee might have authority to remove your resort fee.
Just understand that this is the exception, not the norm. And while it doesn't hurt to ask, it helps to ask nicely.
Hotels with the most and fewest resort fees
To better understand the best and worst hotels for resort fees, NerdWallet performed a comprehensive analysis of dozens of individual hotels within six of the biggest hotel brands to determine which charged the highest resort fees. The data homed in on hotels in destinations where resort fees are common — such as Las Vegas and Orlando, Florida — as well as major cities. The data, which is part of a broader effort to find the best airline and hotel rewards loyalty programs of 2023, was collected as part of NerdWallet's Best-Of Awards 2023.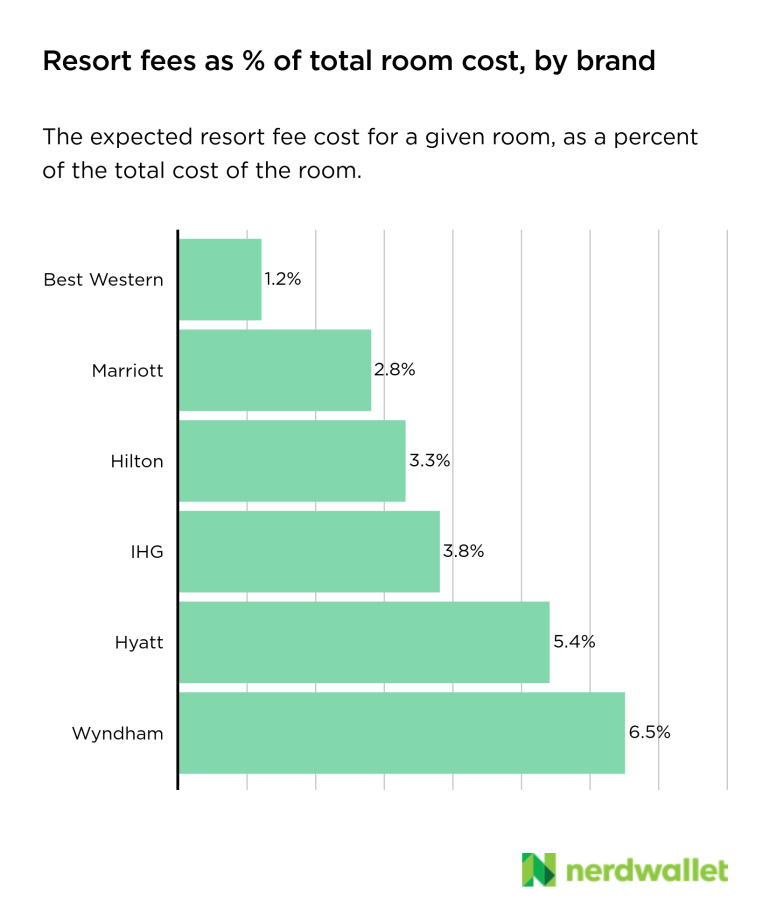 Wyndham properties had the highest average resort fees relative to room rates, with Hyatt coming in second for worst resort fees.
Technically, Best Western had the fewest resort fees, but that's perhaps not surprising given its hotels generally lack resort amenities. Marriott had the second-lowest resort fees as a percentage of room price but is considered the winner because its properties are more likely to offer resort-style amenities.
Based on our analysis, we found that the overall average resort fee — including hotels that don't charge them — is $10.40, while the median resort fee is $40. Among hotels that charge a resort fee, the average jumps to $42.41.
Get out of paying a hotel's resort fee
Perhaps the best way to get out of paying hotel resort fees is to not stay at hotels that charge them, period. According to the American Hotel and Lodging Association, about 6% of hotels charge resort fees — and these are the properties that have far more available amenities than other lodging facilities.
Most hotels in popular tourist destinations like Las Vegas and Hawaii will charge them, but you can find some gems.
In Hawaii, you might stay at the Courtyard by Marriott Oahu North Shore, where you'll get access to standard amenities like Wi-Fi, a fitness center and a swimming pool (complete with waterfall) and can also experience ukulele and hula classes, plus activities like trivia — all with no resort fee.
If resort fees are your big hang-up, you might also find that vacation rentals like Airbnb are more cost-effective than hotels — especially for longer stays or trips with large groups.
Targeting hotel brands that charge fewer and less-frequent resort fees is a good start.
The article How to Avoid Hotel Resort Fees (and Which Brands Are the Worst) originally appeared on NerdWallet.
Related Posts