People are booking dream vacations, staying longer and upgrading accommodations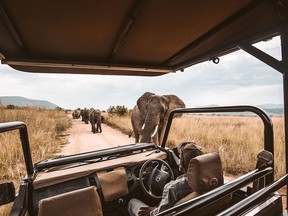 Article content
Bucket-list adventures are on the rise as Canadians are eager to make up for lost time after the pandemic upended travel plans, according to industry experts.
Article content
"People are doing those dream trips," says Lesley Keyter, owner of The Travel Lady agency in Calgary. "They are prepared to go longer and go higher up in standard of accommodation because they feel deprived — they haven't been travelling for a couple of years and now they want to spoil themselves."
Article content
She says Europe is a top destination for her clients, most of whom are aged 50 and up.
"Italy is always a favourite," she says. "Spain and Portugal are popular as well, just because they are so affordable."
Lisa Bain, leisure travel adviser with Forbes Travel in Vancouver, is seeing an uptick in travel to Africa, with wildlife safaris topping the list for a once-in-a-lifetime adventure.
"After COVID, people are really wanting to do something that's a little bit out of the ordinary," she says. "It's one of those bucket-list places, like people going to Churchill, Man., to see the polar bears."
Article content
Keyter says cruises are booking up fast, and she's also seeing more last-minute travel.
"People are jumping on the bandwagon as they realize travel has opened up and prices right now are really pretty good," she says. "There are a lot of sales out there, particularly with the cruise lines. Australia and New Zealand have opened up now, so that's becoming more popular."
Other top destinations for Canadian travellers seeking sunshine this winter include Mexico, Hawaii, Fiji and Tahiti.
"A lot of people stayed close to home when we were in COVID. Now it seems people are getting on a plane and going further," says Bain.
More travellers are using group travel to connect with family, she observes.
"There's a lot more multi-generational travel," she says. "The grandparents are taking their kids, and their kids' kids.
Article content
"A lot more people are seizing the moment, rather than waiting. COVID put a lot of things in perspective for people."
While the pandemic has spurred bucket-list vacations for older adults, Bain is seeing travel bookings across all ages. "It's really everyone," she says. "We are super busy. It's like pre-COVID numbers again."
Indeed, Canadians have been eager to explore throughout 2022 as the travel industry bounced back.
Tourism spending grew 1.3 per cent in the first quarter of 2022, with travellers spending $15.7 billion, according to Statistics Canada. Domestic tourism spending grew 2.9 per cent in the first quarter to $13.5 billion.
In a November 2021 report, Destination Canada, the country's national tourism marketing organization, identified health and wellness travel, nature and outdoor tourism, Indigenous experiences and luxury travel as growing trends.
Article content
"Pent-up demand remains strong, and is spurred by increased household savings, unused vacation banks and loyalty rewards," Destination Canada's website states. "Travel was the top spending priority across all Destination Canada markets in 2021."
And people are no longer putting their dream vacation on the backburner, particularly for the 50-plus crowd.
"Those people are saying, time is precious — let me get on this," says Keyter. "They're saying, 'I've worked all my life, paid my taxes, brought up my kids, sent them to university — now it's my turn.' "
This story was created by Content Works, Postmedia's commercial content division.
Related Posts