"Bonjour! Oui Oui!" I exclaimed in a cringey French accent as I arrived in Paris for the first time — ready to embark on my own Emily in Paris adventure. I was fully prepared, beret and all, to be that tourist. Seeing the Mona Lisa IRL? Yes. Eating a baguette under the Eiffel Tower? Bingo!
If there's one city in the world that's romanticized beyond belief, it's Paris. So I wanted to check out what the hype is about firsthand and determine if the City of Love is actually as magical as movies, TV, and travel influencers make it out to be. And after spending a full week wandering the arrondissements, indulging in countless carbs and fine wine, site-seeing, and luxury shopping (I'll make my money back when I sell things on Depop, right?), I can honestly say… yes, it is. Paris is special.
If you're planning your first trip to the city of love, you should definitely carve out time to do all of the classic attractions. They're amazing and classic for a reason and if you're NOT seeing them you're probably just doing it to prove a point. On the other hand, there's a lot of Paris that goes unnoticed. Some of my favorite experiences throughout my trip were those that I accidentally stumbled upon or came recommended to me by locals or frequent visitors. From thrift shopping hotspots to speakeasies and mouthwatering meals, Paris has a little of everything, for everyone.
To help build a travel itinerary you're happy with, I'm sharing a few of the top things to do on your first Parisian adventure.
Fly With French Bee
Getting there is the most important part of your trip, and often one of the biggest expenses. And if you're balling on a budget like me, then it can also be the most stressful part of your trip-planning process. Fortunately, a new-ish budget airline, French Bee, offers low-cost, direct flights from the U.S. to Paris. With prices as low as $220, you can put your cash toward the worthwhile food, accommodations, and experiences that you've been daydreaming about.
French Bee now has direct flights from LA, Miami, New York, and San Francisco and several different seating options to choose from, depending on your needs and budget. I did the "Cozy Cabin" option in Premium Economy, which comes with a comfort pack (eye mask, socks, headphones, etc), a free checked bag, a more comfortable seat, and complimentary in-flight drinks. Just remember, this is still a budget airline. No matter what cabin you go with, you won't be getting any luxury first-class experience. But it'll get you from point A to point B at an affordable price
Book your French Bee Airline tickets here.
Go on a Self-Guided Site-Seeing Tour
I mean, duh. You can't go to Paris without seeing the Eiffel Tower, the Arc de Triomphe, the Louvre Museum's glass pyramid, Sainte Chapelle, and all that good stuff. I recommend walking as much of this as you can — I walked about 10 miles on my site-seeing day. In my opinion, this lets you observe the people and culture more clearly and closely. By walking through the city, I felt immersed in the everyday bustle and was able to easily stop in boutiques and cafes when a designer dress or fresh macarons caught my eye. Besides, it's the best way to take in the incredible architecture that can be found around every corner.
Make sure to take a walk along the Seine River on your way to the next stop, especially on a nice day. You'll pass art vendors, street performers, riverside views, and some great photo spots. (Tip: If you're alone, keep your ears and eyes open for English-speaking teen girls. They'll get you the best vacation photos from every angle.) Also, this is one time when I'd gladly sacrifice fashion for comfort. Put on your most comfortable pair of walking shoes or you'll regret it at the end of the day.
Paris Ultimate Food Tour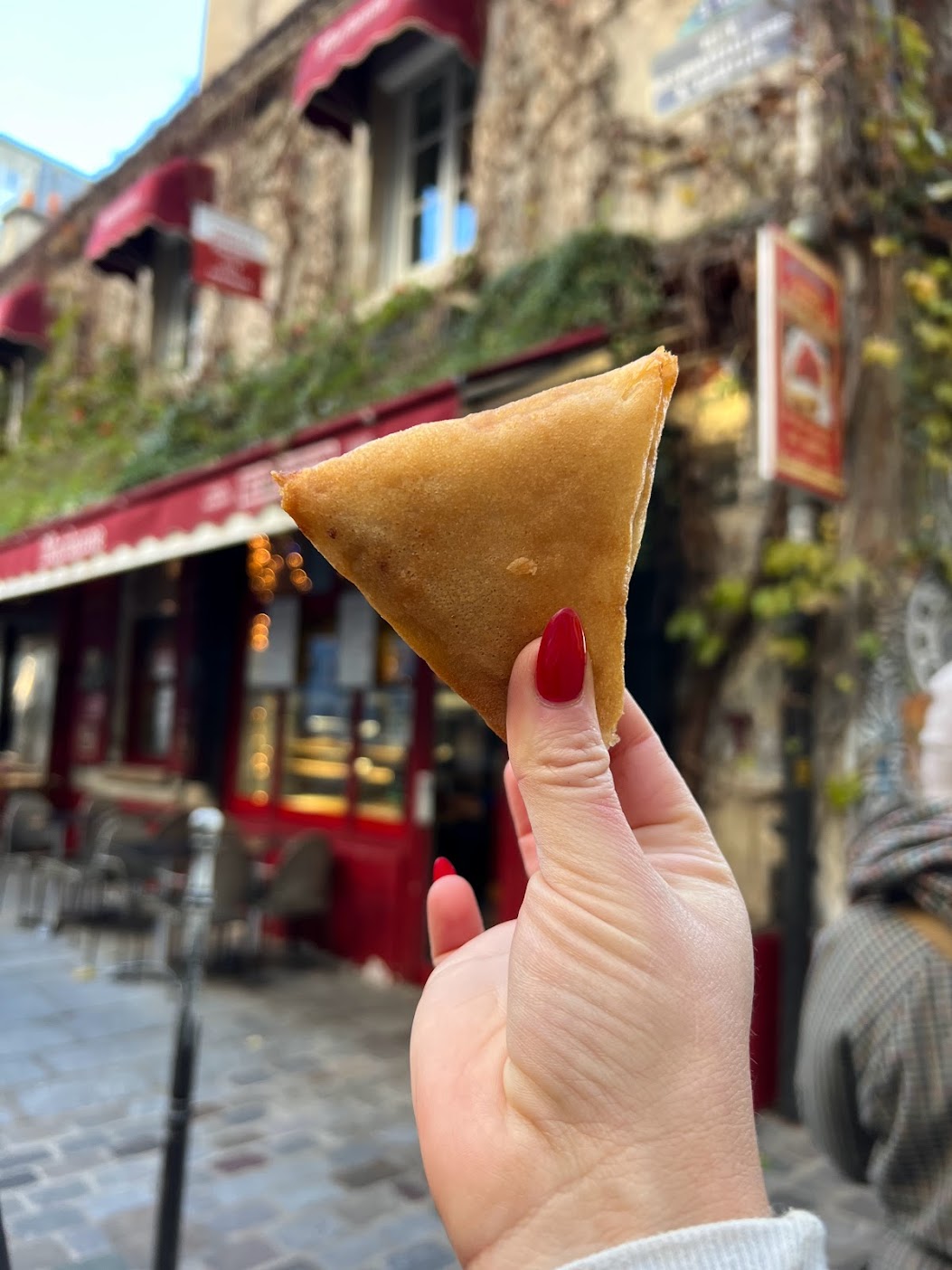 One of the best ways to learn about a new culture is by learning about its food, and Paris is famous for its incredible gastronomy. If you want to try a little bit of everything while educating yourself on French food history, take the Paris Ultimate Food Tour with City Experiences. Don't worry, this isn't one of those cheesy, overcrowded tourist groups. Well, literally cheesy, yes. It's a group of about 10 travelers and an English-speaking guide who will take you to nine different businesses for a total of 11 tastings.
The tour is in the Marais neighborhood, which is strictly reserved for long-lived family businesses and locally-owned shops — there are laws against chains posting up in this part of the city. So you'll get an authentic Parisian experience and meet a range of food entrepreneurs. From baguettes, quiche, and crêpes to chocolate and sweet pastries, you'll be drooling over the servings and full by the end of the tour.
By the way, did you know that the baguette has officially achieved UNESCO World Heritage status as of November 2022? We need more protected breads, I say.
Book your Paris food tour here.
Visit the Louvre Museum…at Night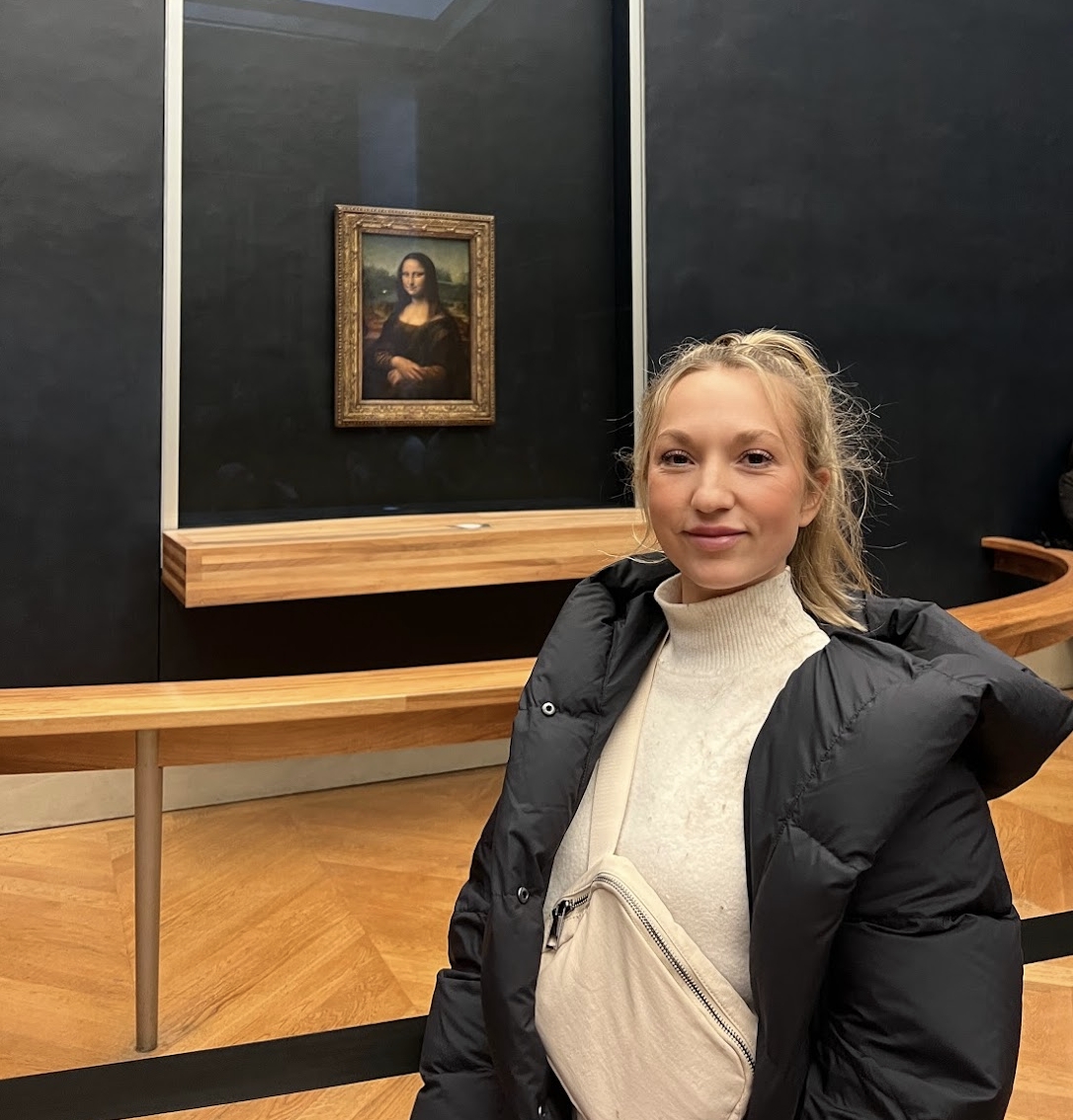 Obviously, the famous Louvre museum is a must on your Paris to-do list. It's the most visited museum in the world and displays 35,000 works of art, some of which are the most famous pieces to have ever been created. If you want to make the experience a little more unique and avoid the crowds of people flocking to the Mona Lisa, I recommend going in the evening. Another tour worth your time is Closing Time at the Louvre. You'll walk through a few wings of the museums with a small group and an English-speaking guide who's knowledgeable about the art.
Rather than just admiring the pieces as you pass by, you get to learn more about the artists and stories behind the work. Sure, it's a tour — but it deepens your appreciation!
The best part? There is little to no line to see the coveted Mona Lisa, so you can get your selfie with her (and, ya know, admire the world's most recognized work of art) without being rushed. During the day, you're likely going to have to wait for a long time to get your glimpse, and that alone makes the tour worth it. If you need something to do before your tour, take a stroll nearby through the Tuileries Gardens while it's still light out. With fountains and sculptures, it'll get you in the mood to browse some masterpieces — and if you're in town during the holidays, this is where you'll find one of the best Christmas markets in Paris.
Book your tickets for The Louvre at Closing Time here.
Party at Le Speakeasy
You won't find any shortage of places to drink in Paris, but if you're looking for a unique party experience, spend a night out at Le Speakeasy. It's a speakeasy-themed restaurant and nightclub that plays a combination of American oldies and modern dance music — a playlist that encourages dancing on furniture and bottle service. The red LED lights and live DJ definitely helped set the mood, too. I stayed here until closing time, and let's just say I missed my museum tour the next morning.
This is one of those places I stumbled upon accidentally. I happened to be in town when France won the World Cup quarter-finals (which was an insane experience in itself). Every bar and restaurant was closed, as nearly every Parisian citizen was stampeding through the streets, and Le Speakeasy was the only open place I could find. Fortunately, it turned out to be a gem of a party place, and one that I've already recommended to several friends visiting Paris.
Check out the scene at Le Speakeasy here.
Bateaux Mouches
If you want to feel boujee AF (technically bourgeoisie — you're in Paris, after all!), book a dinner cruise with Bateaux Mouches. You'll get a four-course meal, a bottle of wine per two people, and a glass of champagne, not to mention a perfect view of the Eiffel Tower twinkling at night, all while cruising down the Seine River. The food is served by waiters in tuxedos and alongside live piano and violin music. It's the ultimate #fancy experience without going over budget.
You can opt for the early bird service (85.00 €), the prestige dinner (105.00 €), or the excellence dinner (139.00 €), all of which have slightly different menus and perks. If you're visiting with your special someone, you can even go with the "Get a Yes in Paris – Marriage Proposal" option for 325.00 €. Bateaux Mouches also has a variety of other cruises, such as a brunch option or dinner with a cabaret show.
Book Bateaux Mouches your cruise here.
Go Thrift Shopping in the 4th Arrondissement
Paris is known for its iconic fashion and luxury shopping, and you should definitely partake in it during your trip. But Paris' fashion scene goes beyond just the designer stuff. It's also home to incredible thrift shops (where you might just find some lightly worn designer pieces, too). Throughout the 4th arrondissement, an eclectic and hipster-ish neighborhood, you'll find a ton of "Kilo Shops," which are thrift stores that sell clothes by weight rather than by item of clothing. So you can fill up a basket with chic and vintage fashion finds and only pay for the number of kilos it weighs.
Just make sure to leave room in your luggage!
Have Brunch at Carette
There's a reason this place is viral on TikTok — and it's because of its hot chocolate, which comes with a full teapot of creamy cocoa and a heaping of perfectly fluffy whipped cream. Yes, it's as luxurious and indulgent as it sounds.
Carette also serves delectable pastries as well as full breakfast spreads. I had a full brunch option that came with eggs, a croissant, orange juice, and toast with jam. Just like every French meal you'll eat, it was fresh and filling without making you want to take a nap afterward. Carette's picturesque spread and almost-too-pretty-to-eat pastries basically made me feel like I was dining in a Disney princess movie.
Peruse Carette's dreamy dishes here.
Wander Through Montmartre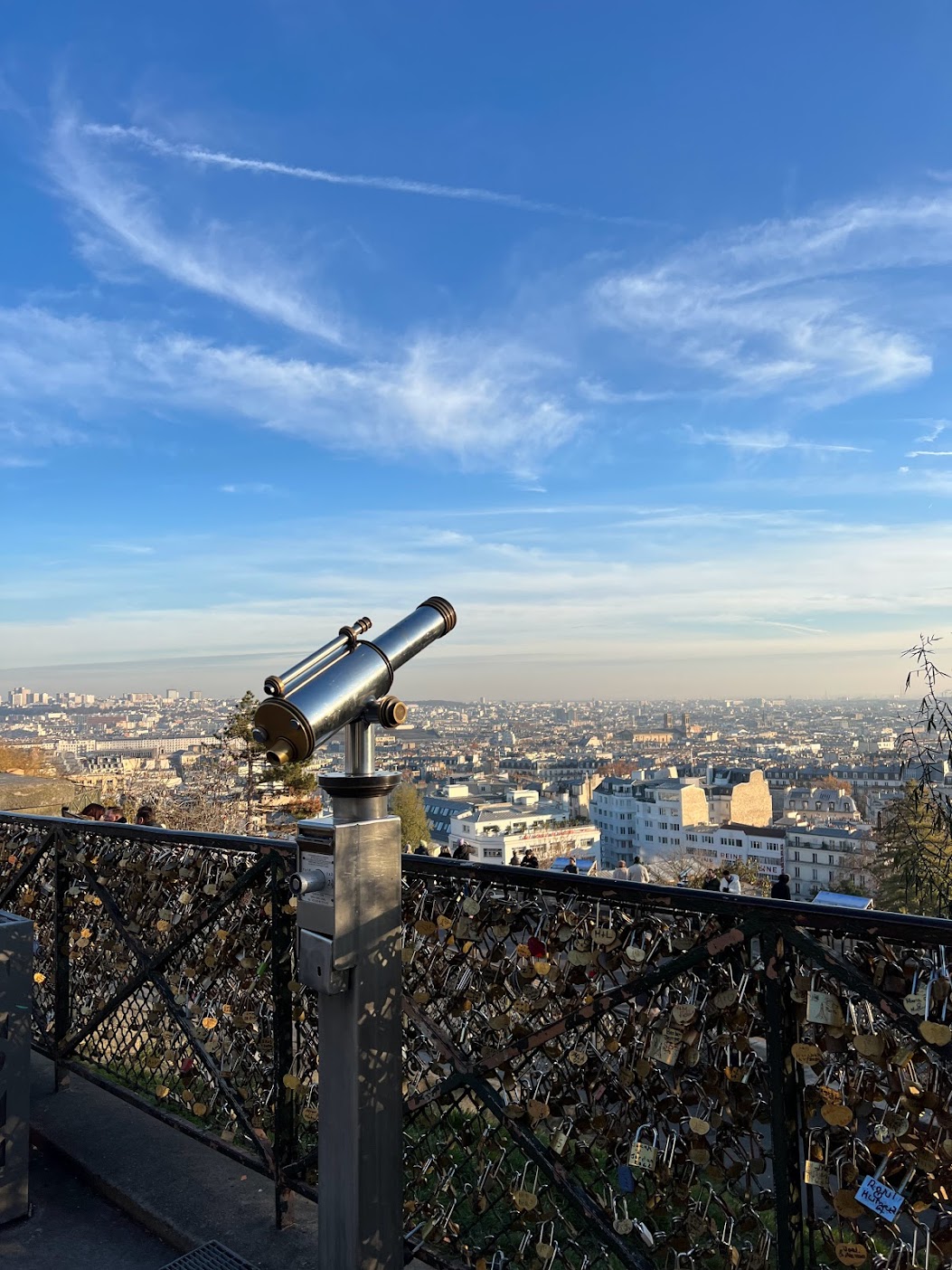 To me, Montmartre was the dreamiest neighborhood in Paris. It reminded me of a scene from "Beauty and the Beast" with cobblestone streets, art vendors painting in a town square, cafes like the La Maison Rose, and of course, The Basilica of the Sacred Heart. It's a Roman Catholic cathedral majestically placed at the top of a hill overlooking Paris. This is where you can get one of the absolute best views in Paris, and there are thousands of signed padlocks lined along the fences.
It's a romantic scene, to say the least, making it the perfect location for a proposal. Montmartre is also a great place to do your souvenir shopping. There are tons of touristy vendors with all the Paris-branded merch you could ask for. You can spend an entire afternoon here just wandering through the streets and boutiques and never get bored.
Galeries Lafayette
As I said, thrift shopping is a must, but you also have to immerse yourself in the luxury fashion that Paris is famous for. There's no better place to do that than at Galeries Lafayette. It's basically a glorified department store (not in a bad way) where you can peruse all the designer lines in one place — Chanel, Dior, Armani, Balenciaga, you name it.
I may or may not have bought the most expensive item of clothing I've ever owned. But when in Paris, right?
Treat yourself to a designer 'fit in the main shopping area, then go to the top floor for all the gifts and souvenirs you need to bring home for friends and family. You also can't leave Galeries Lafayette without checking out the rooftop. Here, you'll get a 360 view of the city with the Eiffel Tower in the distance. It's an excellent photo op and a nice place to relax after a long day of shopping.
Learn more about Galeries Lafayette here.
Related Posts